FAMAS | Faulty Wiring
The 2021 Vertigo Collection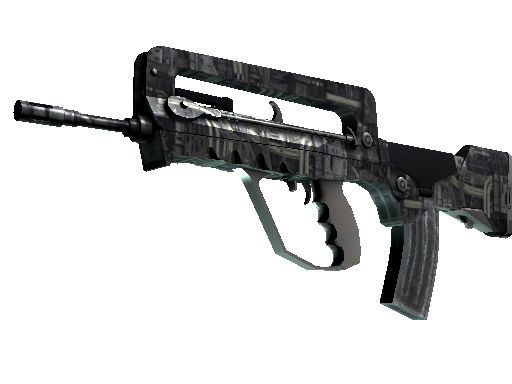 | Condition | Price |
| --- | --- |
| Factory New | $0.73 |
| Minimal Wear | $0.47 |
| Field-Tested | $0.46 |
| Well-Worn | $0.45 |
| Battle-Scarred | $0.34 |
| Souvenir Factory New | $0.3 |
| Souvenir Minimal Wear | $0.13 |
| Souvenir Field-Tested | $0.05 |
| Souvenir Well-Worn | $0.11 |
| Souvenir Battle-Scarred | $0.14 |
Description
A pattern of a wiring diagram has been applied.
The 'FAMAS | Faulty Wiring' is a distinctive skin in the Counter-Strike series. It was released on the 6th of December, 2018, as part of the 'Danger Zone Collection'. This skin features a unique design of an underlying circuit board pattern, overlaid by a streaked camo in shades of green and brown. It has found favor among many players, particularly tech enthusiasts, for its innovative theme. It has also been used in several professional matches, further enhancing its popularity and market value. This skin is a popular item among traders for its unique aesthetic and steady market value.
It was added to Counter-Strike: Global Offensive on 22 September 2021 as part of the The 2021 Vertigo Collection with the Operation Riptide update.
FAMAS | Faulty Wiring skin float value ranges from 0.00 to 0.50 which makes it available in the following wear conditions: Factory New, Minimal Wear, Field-Tested, Well-Worn, Battle-Scarred.
FAMAS | Faulty Wiring finish style is Anodized Airbrushed with finish catalog equal to 1066. It's unique flavor text is: 'Please consult an electrician before conducting your own repairs'.
FAMAS | Faulty Wiring is a fairly liquid item. It should be easy to sell or exchange it. Traders rates this skin at 4.01/5.0.
Buy on CS.TRADE
Buy or trade for FAMAS | Faulty Wiring skins listed below on CS.TRADE trade bot.