FAMAS | Eye of Athena
The Horizon Collection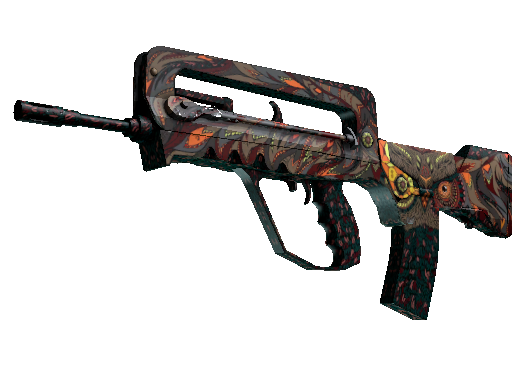 | Condition | Price |
| --- | --- |
| Factory New | $20.63 |
| Minimal Wear | $8.69 |
| Field-Tested | $5.84 |
| Well-Worn | $5.49 |
| Battle-Scarred | $3.8 |
| StatTrak Factory New | $42.88 |
| StatTrak Minimal Wear | $21.25 |
| StatTrak Field-Tested | $10.08 |
| StatTrak Well-Worn | $8.57 |
| StatTrak Battle-Scarred | $7.85 |
Description
A hand painted mechanized owl sits atop a nest of orange and brown feathers.
The 'FAMAS | Eye of Athena' is a skin that resonates with the ancient Greek mythology. It was included in the Canals Collection, which was released in March 2017. The skin features an intricate design of an owl, which symbolizes wisdom, and lavish, colorful embellishments, reminiscent of ancient Greek pottery. Athena, as the goddess of wisdom and warfare, aptly represents the strategic and combat aspects of CS:GO and CS2. The 'Eye of Athena' is a mid-range skin in terms of price, which can vary greatly depending on its condition and any additional stickers.
It was added to Counter-Strike: Global Offensive on 3 August 2018 as part of the The Horizon Collection with the A New Horizon update.View Skin Workshop Submission
FAMAS | Eye of Athena skin float value ranges from 0.00 to 0.70 which makes it available in the following wear conditions: Factory New, Minimal Wear, Field-Tested, Well-Worn, Battle-Scarred.
FAMAS | Eye of Athena finish style is Custom Paint Job with finish catalog equal to 723. It's unique flavor text is: '+1 to Wisdom'.
FAMAS | Eye of Athena is a fairly liquid item. It should be easy to sell or exchange it. Traders rates this skin at 4.21/5.0.
Buy on CS.TRADE
Buy or trade for FAMAS | Eye of Athena skins listed below on CS.TRADE trade bot.