FAMAS | Djinn
The Chroma 2 Collection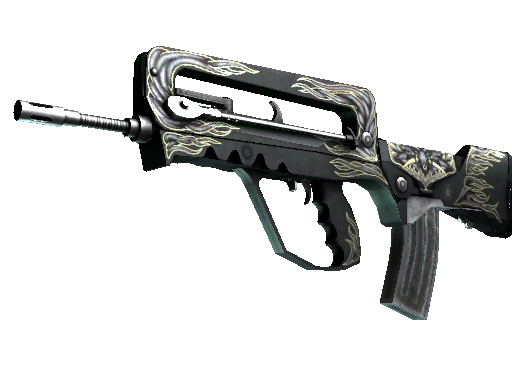 | Condition | Price |
| --- | --- |
| Factory New | $17.9 |
| Minimal Wear | $7.15 |
| Field-Tested | $3.48 |
| Well-Worn | $3.28 |
| Battle-Scarred | $2.87 |
| StatTrak Factory New | $47.69 |
| StatTrak Minimal Wear | $15.19 |
| StatTrak Field-Tested | $7.94 |
| StatTrak Well-Worn | $6.35 |
| StatTrak Battle-Scarred | $5.65 |
Description
It has been inlaid with gold and nickel and engraved with the image of a jinn.
The 'FAMAS | Djinn' skin with its mystical design, is sure to catch the eye of any CS:GO or CS2 player. It was released as part of the Chroma Collection in January 2015. The skin features a fiery, red and orange design, inspired by the mythical djinn, or genies, of Arabian folklore. Popular among collectors, the 'Djinn' skin can significantly boost the value of your rifle, particularly if it is in excellent condition or adorned with rare stickers. The skin's price varies, but it is generally considered a valuable item on the market.
It was added to Counter-Strike: Global Offensive on 15 April 2015 as part of the The Chroma 2 Collection with the Chromatic Scale update.View Skin Workshop Submission
FAMAS | Djinn skin float value ranges from 0.00 to 1.00 which makes it available in the following wear conditions: Factory New, Minimal Wear, Field-Tested, Well-Worn, Battle-Scarred.
FAMAS | Djinn finish style is Patina with finish catalog equal to 429. It's unique flavor text is: 'Be careful what you wish for'.
FAMAS | Djinn is a fairly liquid item. It should be easy to sell or exchange it. Traders rates this skin at 4.18/5.0.
Buy on CS.TRADE
Buy or trade for FAMAS | Djinn skins listed below on CS.TRADE trade bot.