FAMAS | Decommissioned
The CS20 Collection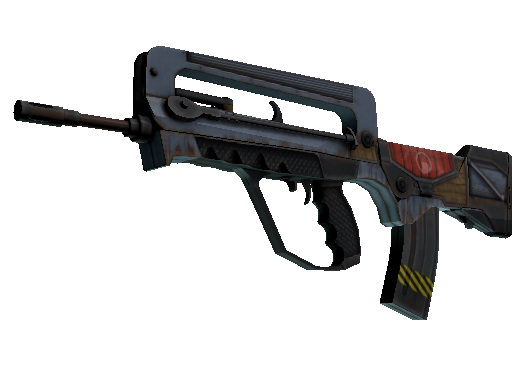 | Condition | Price |
| --- | --- |
| Factory New | $0.59 |
| Minimal Wear | $0.14 |
| Field-Tested | $0.13 |
| Well-Worn | $0.11 |
| Battle-Scarred | $0.1 |
| StatTrak Factory New | $3.23 |
| StatTrak Minimal Wear | $0.75 |
| StatTrak Field-Tested | $0.23 |
| StatTrak Well-Worn | $0.15 |
| StatTrak Battle-Scarred | $0.18 |
Description
This custom paint job is inspired by elements found on de_nuke from Counter-Strike 1.6.
With a rustic and worn-out look, the 'FAMAS | Decommissioned' skin tells a story of battles and victories. With shades of rusty orange, grey, and black, it resonates with players who prefer a vintage feel. Generally available in 'Field-Tested' and 'Well-Worn' conditions, the 'FAMAS | Decommissioned' has a stable market price. It is often associated with players who have shown resilience in the past, making it a symbol of grit and determination in the face of challenges.
It was added to Counter-Strike: Global Offensive on 18 October 2019 as part of the The CS20 Collection with the Cache and Release update.View Skin Workshop Submission
FAMAS | Decommissioned skin float value ranges from 0.00 to 1.00 which makes it available in the following wear conditions: Factory New, Minimal Wear, Field-Tested, Well-Worn, Battle-Scarred.
FAMAS | Decommissioned finish style is Custom Paint Job with finish catalog equal to 904. It's unique flavor text is: 'If found please return to Cedar Creek Nuclear Power Plant'.
FAMAS | Decommissioned is a fairly liquid item. It should be easy to sell or exchange it. Traders rates this skin at 4.01/5.0.
Buy on CS.TRADE
Buy or trade for FAMAS | Decommissioned skins listed below on CS.TRADE trade bot.