FAMAS | Dark Water
The Ancient Collection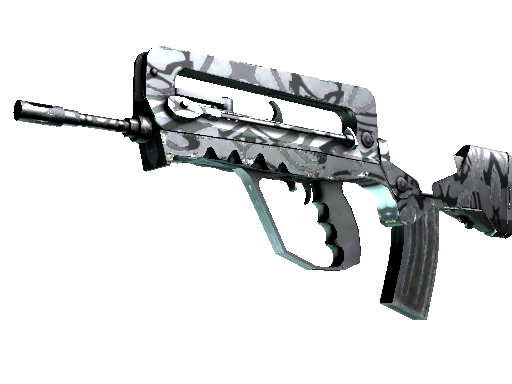 | Condition | Price |
| --- | --- |
| Minimal Wear | $16.81 |
| Field-Tested | $14.38 |
| Souvenir Minimal Wear | $3.42 |
| Souvenir Field-Tested | $1.65 |
Description
It has been painted in an aquatic-stripe pattern with charcoal metallic paints of various reflectivities over a chrome base coat.
The 'FAMAS | Dark Water' skin is synonymous with elegant design and aesthetic appeal. Its design, evoking the depths of the ocean, adds a layer of mystery and intrigue to any player's arsenal. This skin has made waves in the CS:GO and CS2 trading community for its unique design and appeal. The 'Dark Water' skin was released to great fanfare, with players praising its attention to detail and sleek design. This led to a surge in its value and demand among the trading community. Many professional players have chosen to use the 'Dark Water' in major tournaments due to its captivating design, enhancing its popularity and value.
It was added to Counter-Strike: Global Offensive on 3 December 2020 as part of the The Ancient Collection with the Operation Broken Fang update.
FAMAS | Dark Water skin float value ranges from 0.10 to 0.26 which makes it available in the following wear conditions: Minimal Wear, Field-Tested.
FAMAS | Dark Water finish style is Anodized Multicolored with finish catalog equal to 60. It's unique flavor text is: 'Water gives life, but it can also take it...'.
FAMAS | Dark Water is a fairly liquid item. It should be easy to sell or exchange it. Traders rates this skin at 4.17/5.0.
Buy on CS.TRADE
Buy or trade for FAMAS | Dark Water skins listed below on CS.TRADE trade bot.