FAMAS | Crypsis
The Prisma Collection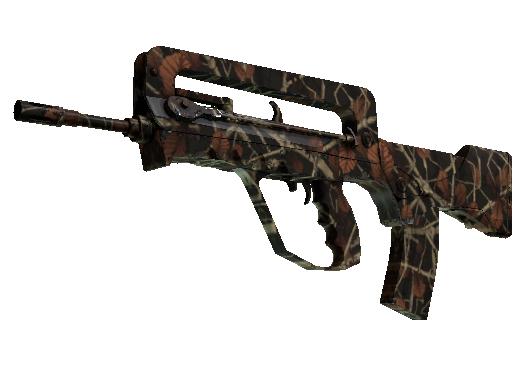 | Condition | Price |
| --- | --- |
| Factory New | $0.68 |
| Minimal Wear | $0.35 |
| Field-Tested | $0.14 |
| Well-Worn | $0.18 |
| Battle-Scarred | $0.13 |
| StatTrak Factory New | $2.16 |
| StatTrak Minimal Wear | $1.17 |
| StatTrak Field-Tested | $0.5 |
| StatTrak Well-Worn | $0.45 |
| StatTrak Battle-Scarred | $0.37 |
Description
It has been spray painted with a randomized insect pattern in autumn colors.
Sporting a camouflage pattern, the 'FAMAS | Crypsis' is a hit among players for its stealthy appeal. With green and brown hues, it blends perfectly into the environment in-game, making it a tactical asset as well as a fashion statement. The market price varies, especially during tournaments, when these skins are in high demand. Players and traders often look for 'FAMAS | Crypsis' skins in 'Factory New' condition to add value to their collection.
It was added to Counter-Strike: Global Offensive on 14 March 2019 as part of the The Prisma Collection with the Seeing the Light update.View Skin Workshop Submission
FAMAS | Crypsis skin float value ranges from 0.00 to 0.55 which makes it available in the following wear conditions: Factory New, Minimal Wear, Field-Tested, Well-Worn, Battle-Scarred.
FAMAS | Crypsis finish style is Spray-Paint with finish catalog equal to 835. It's unique flavor text is: 'Take a second look'.
FAMAS | Crypsis is a fairly liquid item. It should be easy to sell or exchange it. Traders rates this skin at 4.01/5.0.
Buy on CS.TRADE
Buy or trade for FAMAS | Crypsis skins listed below on CS.TRADE trade bot.