FAMAS | Colony
The Italy Collection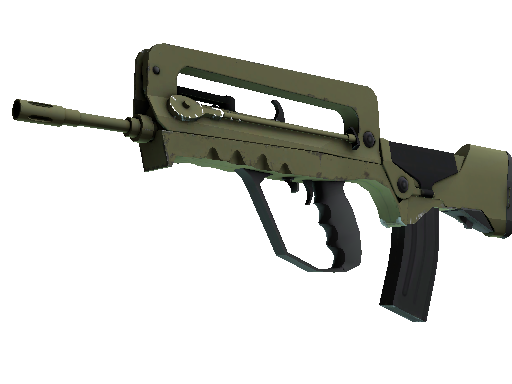 | Condition | Price |
| --- | --- |
| Factory New | $0.15 |
| Minimal Wear | $0.03 |
| Field-Tested | $0.03 |
| Well-Worn | $0.03 |
| Battle-Scarred | $0.03 |
| Souvenir Factory New | $51.52 |
| Souvenir Minimal Wear | $3.81 |
| Souvenir Field-Tested | $11.06 |
| Souvenir Well-Worn | $3.94 |
| Souvenir Battle-Scarred | $5.7 |
Description
It has individual parts spray-painted khaki and grey.
The FAMAS | Colony is a commonly recognized skin in both CS:GO and CS2. With its insectoid-themed design, it appeals to players who appreciate unique, unusual aesthetics. Valued for its versatility and rapid fire rate, the FAMAS | Colony is a reliable and economical choice for in-game situations, whether offensive or defensive. This skin witnessed a peak in popularity during the 2015 IEM Katowice tournament, when player 'f0rest' of team NiP utilized it effectively in several rounds. The market price for this item fluctuates based on demand, with average prices ranging from $0.3 to $1.5. Statistically, this skin sees a marked increase in trades during major tournaments, implying its cultural relevance in competitive CS:GO and CS2 environments.
It was added to Counter-Strike: Global Offensive on 27 November 2013 as part of the The Italy Collection with the Out with the old, in with the new update. This skin was created by Valve.
FAMAS | Colony skin float value ranges from 0.06 to 0.80 which makes it available in the following wear conditions: Factory New, Minimal Wear, Field-Tested, Well-Worn, Battle-Scarred.
FAMAS | Colony finish style is Solid Color.
FAMAS | Colony is an item of average liquidity. It may take some time to sell or trade it. Traders rates this skin at 3.00/5.0.
Buy on CS.TRADE
Buy or trade for FAMAS | Colony skins listed below on CS.TRADE trade bot.