FAMAS | Afterimage
The eSports 2013 Winter Collection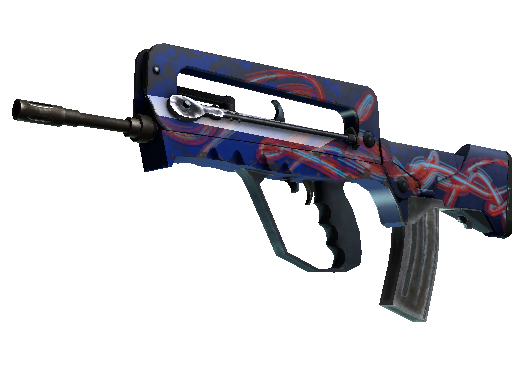 | Condition | Price |
| --- | --- |
| Factory New | $88.53 |
| Minimal Wear | $53.07 |
| Field-Tested | $30.61 |
| Well-Worn | $18.8 |
| StatTrak Factory New | $67.84 |
| StatTrak Minimal Wear | $39.32 |
| StatTrak Field-Tested | $23.19 |
| StatTrak Well-Worn | $22.16 |
Description
It has been custom-painted with broken ribbon trails.
The 'FAMAS | Afterimage' is a highly sought-after weapon skin in both CS:GO and CS2. Known for its vibrant and stunning color scheme, the Afterimage is a symbol of status among players. It features a scratch-resistant surface, ensuring its aesthetic appeal endures through intense gameplay. The paint of this skin is filled with scarlet and white colors, reminiscent of the afterimage effect. The powerful FAMAS, combined with such a visual appeal, makes for a great asset in any player's inventory. It's essential for traders to note that the 'FAMAS | Afterimage' skin is highly valued in the market, with prices fluctuating due to its constant demand.
It was added to Counter-Strike: Global Offensive on 18 December 2013 as part of the The eSports 2013 Winter Collection with the Winter Offensive update. This skin was created by Valve.
FAMAS | Afterimage skin float value ranges from 0.02 to 0.40 which makes it available in the following wear conditions: Factory New, Minimal Wear, Field-Tested, Well-Worn.
FAMAS | Afterimage finish style is Custom Paint Job.
FAMAS | Afterimage is a fairly liquid item. It should be easy to sell or exchange it. Traders rates this skin at 4.89/5.0.
Buy on CS.TRADE
Buy or trade for FAMAS | Afterimage skins listed below on CS.TRADE trade bot.