Dual Berettas | Twin Turbo
The 2018 Inferno Collection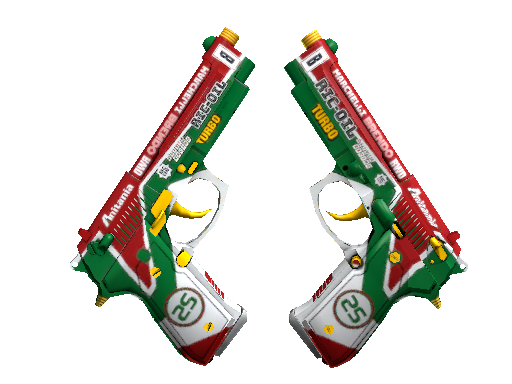 | Condition | Price |
| --- | --- |
| Factory New | $21.47 |
| Minimal Wear | $11.07 |
| Field-Tested | $6.67 |
| Well-Worn | $3.9 |
| Battle-Scarred | $3.63 |
| Souvenir Factory New | $401.38 |
| Souvenir Minimal Wear | $64.08 |
| Souvenir Field-Tested | $27.93 |
| Souvenir Well-Worn | $15.48 |
| Souvenir Battle-Scarred | $16.51 |
Description
A custom paint job paying homage to an Italian racing car has been applied.
'Dual Berettas | Twin Turbo' has a metallic design that resonates with players who prefer a futuristic look. The skin, known for its sleek aesthetic, has been used frequently during important CS:GO and CS2 matches. Market prices are highly dynamic, depending on the skin's popularity during the certain period.
It was added to Counter-Strike: Global Offensive on 1 September 2018 as part of the The 2018 Inferno Collection with the FACEIT 2018 – Ways to Watch update.
Dual Berettas | Twin Turbo skin float value ranges from 0.00 to 1.00 which makes it available in the following wear conditions: Factory New, Minimal Wear, Field-Tested, Well-Worn, Battle-Scarred.
Dual Berettas | Twin Turbo finish style is Custom Paint Job with finish catalog equal to 747. It's unique flavor text is: 'Always an underdog'.
Dual Berettas | Twin Turbo is a fairly liquid item. It should be easy to sell or exchange it. Traders rates this skin at 4.21/5.0.
Buy on CS.TRADE
Buy or trade for Dual Berettas | Twin Turbo skins listed below on CS.TRADE trade bot.