Dual Berettas | Tread
The Operation Riptide Collection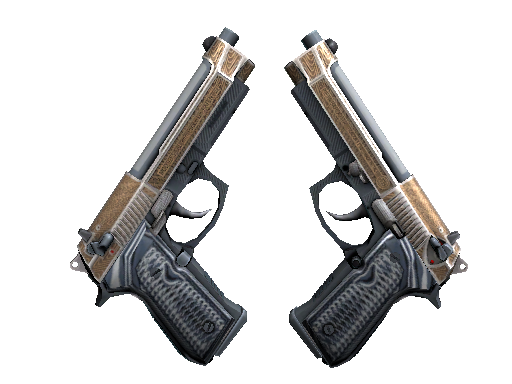 | Condition | Price |
| --- | --- |
| Factory New | $1.59 |
| Minimal Wear | $0.84 |
| Field-Tested | $0.53 |
| Well-Worn | $0.39 |
| Battle-Scarred | $0.33 |
| StatTrak Factory New | $3.72 |
| StatTrak Minimal Wear | $2.14 |
| StatTrak Field-Tested | $0.6 |
| StatTrak Well-Worn | $0.46 |
| StatTrak Battle-Scarred | $0.43 |
Description
Both Berettas have been hand etched using a wave pattern. The slides have been painted gold.
The 'Dual Berettas | Tread' skin is sought after for its unique tire tread design. Released on 17th September 2020 as part of the 'Fracture Case', the skin is representative of the relentless, unstoppable spirit of its owner. Based on market data, it ranges in price from $0.38 to $5.00 USD.
It was added to Counter-Strike: Global Offensive on 22 September 2021 as part of the The Operation Riptide Collection with the Operation Riptide update.View Skin Workshop Submission
Dual Berettas | Tread skin float value ranges from 0.00 to 1.00 which makes it available in the following wear conditions: Factory New, Minimal Wear, Field-Tested, Well-Worn, Battle-Scarred.
Dual Berettas | Tread finish style is Gunsmith with finish catalog equal to 1091. It's unique flavor text is: 'Fine details take the longest, add the most, and are noticed the least'.
Dual Berettas | Tread is an item of average liquidity. It may take some time to sell or trade it. Traders rates this skin at 3.02/5.0.
Buy on CS.TRADE
Buy or trade for Dual Berettas | Tread skins listed below on CS.TRADE trade bot.