Dual Berettas | Switch Board
The Control Collection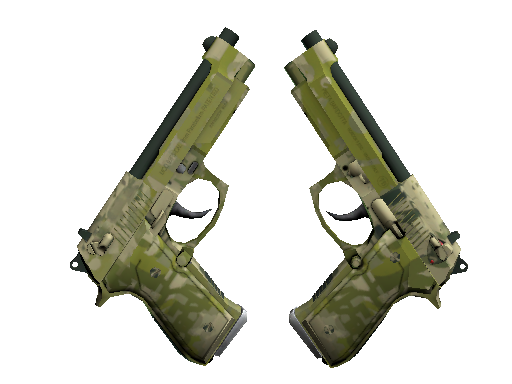 | Condition | Price |
| --- | --- |
| Factory New | $4.03 |
| Minimal Wear | $3.86 |
| Field-Tested | $3.62 |
| Well-Worn | $3.99 |
| Battle-Scarred | $3.65 |
Description
A multicolored pattern of randomized numbers has been applied.
Counter-Strike players appreciate the 'Dual Berettas | Switch Board' for its eccentric and distinctive design. This skin was released as part of the 'Prisma 2 Collection' in March 2020. The design features a sophisticated circuit board pattern with striking neon green accents. It's a beloved skin for tech lovers and those who appreciate a modern, high-tech design. On the 'Steam Community Market', the prices hover from 0.15 to 0.50 USD, offering an affordable entry point for traders. The skin's unique design and significant trading volume make it a valuable asset for players and collectors alike.
It was added to Counter-Strike: Global Offensive on 3 December 2020 as part of the The Control Collection with the Operation Broken Fang update.
Dual Berettas | Switch Board skin float value ranges from 0.00 to 0.65 which makes it available in the following wear conditions: Factory New, Minimal Wear, Field-Tested, Well-Worn, Battle-Scarred.
Dual Berettas | Switch Board finish style is Hydrographic with finish catalog equal to 998. It's unique flavor text is: 'Numbers don't lie, but I do'.
Dual Berettas | Switch Board is a fairly liquid item. It should be easy to sell or exchange it. Traders rates this skin at 4.04/5.0.
Buy on CS.TRADE
Buy or trade for Dual Berettas | Switch Board skins listed below on CS.TRADE trade bot.