Dual Berettas | Shred
The Horizon Collection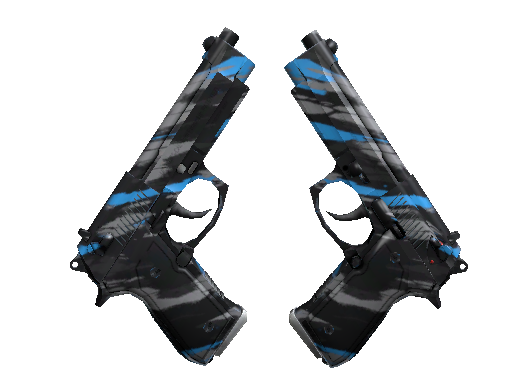 | Condition | Price |
| --- | --- |
| Factory New | $0.52 |
| Minimal Wear | $0.31 |
| Field-Tested | $0.14 |
| Well-Worn | $0.14 |
| Battle-Scarred | $0.11 |
| StatTrak Factory New | $1.6 |
| StatTrak Minimal Wear | $0.81 |
| StatTrak Field-Tested | $0.6 |
| StatTrak Well-Worn | $0.7 |
| StatTrak Battle-Scarred | $0.5 |
Description
It has been spray painted with white and blue streaks on a black base.
The 'Dual Berettas | Shred' skin, introduced on 6th December 2018 as part of the 'Danger Zone Case', is known for its vibrant, graffiti-inspired design. It marks the player as an inherent risk-taker. The price range for this audacious skin extends from $0.99 to $9.00 USD.
It was added to Counter-Strike: Global Offensive on 3 August 2018 as part of the The Horizon Collection with the A New Horizon update.View Skin Workshop Submission
Dual Berettas | Shred skin float value ranges from 0.00 to 0.50 which makes it available in the following wear conditions: Factory New, Minimal Wear, Field-Tested, Well-Worn, Battle-Scarred.
Dual Berettas | Shred finish style is Spray-Paint with finish catalog equal to 710. It's unique flavor text is: 'Sometimes the gnar shreds you'.
Dual Berettas | Shred is a fairly liquid item. It should be easy to sell or exchange it. Traders rates this skin at 4.01/5.0.
Buy on CS.TRADE
Buy or trade for Dual Berettas | Shred skins listed below on CS.TRADE trade bot.