Dual Berettas | Oil Change
The 2021 Vertigo Collection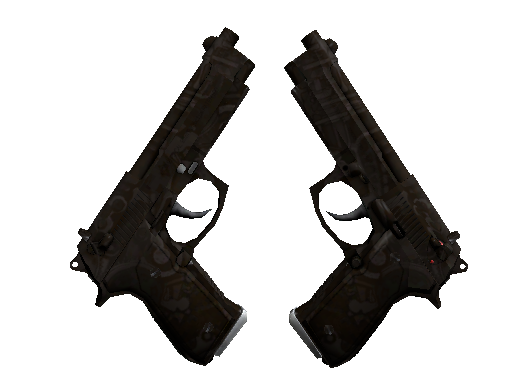 | Condition | Price |
| --- | --- |
| Factory New | $0.73 |
| Minimal Wear | $0.52 |
| Field-Tested | $0.47 |
| Well-Worn | $0.43 |
| Battle-Scarred | $0.36 |
| Souvenir Factory New | $0.13 |
| Souvenir Minimal Wear | $0.08 |
| Souvenir Field-Tested | $0.06 |
| Souvenir Well-Worn | $0.11 |
| Souvenir Battle-Scarred | $0.08 |
Description
It has been spray-painted with a pattern of engine components.
A favorite among artsy players, the 'Dual Berettas | Oil Change' was introduced as part of the 'Falchion Collection' on May 26, 2015. Along with its humoristic name, it's best known for its unique pattern that simulates an oil spill. With a mix of green, blue, and silver shades, it creates a unique and visually fascinating look. Market prices fall between 0.10 and 0.50 USD, making it a promising skin for trade-ups and an attractive piece for collectors and players seeking a unique looking weapon.
It was added to Counter-Strike: Global Offensive on 22 September 2021 as part of the The 2021 Vertigo Collection with the Operation Riptide update.
Dual Berettas | Oil Change skin float value ranges from 0.00 to 0.50 which makes it available in the following wear conditions: Factory New, Minimal Wear, Field-Tested, Well-Worn, Battle-Scarred.
Dual Berettas | Oil Change finish style is Spray-Paint with finish catalog equal to 1086. It's unique flavor text is: '"It doesn't look good..."'.
Dual Berettas | Oil Change is a fairly liquid item. It should be easy to sell or exchange it. Traders rates this skin at 4.01/5.0.
Buy on CS.TRADE
Buy or trade for Dual Berettas | Oil Change skins listed below on CS.TRADE trade bot.