Dual Berettas | Heist
The Havoc Collection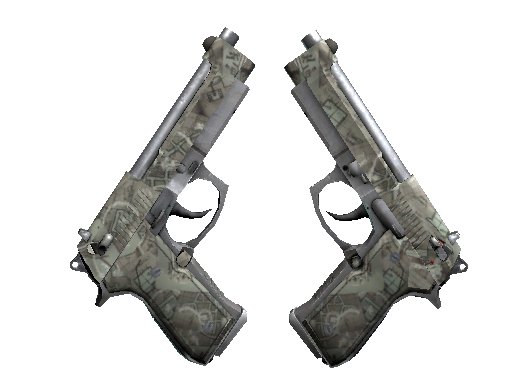 | Condition | Price |
| --- | --- |
| Factory New | $0.44 |
| Minimal Wear | $0.35 |
| Field-Tested | $0.15 |
| Well-Worn | $0.21 |
| Battle-Scarred | $0.14 |
Description
Its base has been painted with a beige anodized map pattern. It looks like someone has drawn on top of the map since it was first applied.
The 'Dual Berettas | Heist' skin is a valuable and esteemed item in CS:GO's vast arsenal. Its design, featuring a sleek metallic finish, reminiscent of a high-stakes heist, provides a visual appeal that is unparalleled. This skin has witnessed its use in several high-profile tournaments and has been a part of winning strategies. In the trading market, the 'Dual Berettas | Heist' is often traded for its aesthetic appeal and relative rarity. It serves as a trophy for collectors and a tool for professional gamers.
It was added to Counter-Strike: Global Offensive on 3 December 2020 as part of the The Havoc Collection with the Operation Broken Fang update.
Dual Berettas | Heist skin float value ranges from 0.00 to 0.70 which makes it available in the following wear conditions: Factory New, Minimal Wear, Field-Tested, Well-Worn, Battle-Scarred.
Dual Berettas | Heist finish style is Anodized Multicolored with finish catalog equal to 1005. It's unique flavor text is: 'Planning is one thing, executing is another'.
Dual Berettas | Heist is a fairly liquid item. It should be easy to sell or exchange it. Traders rates this skin at 4.00/5.0.
Buy on CS.TRADE
Buy or trade for Dual Berettas | Heist skins listed below on CS.TRADE trade bot.