Dual Berettas | Emerald
The Canals Collection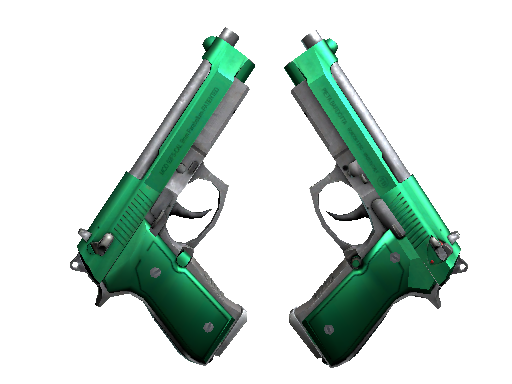 | Condition | Price |
| --- | --- |
| Factory New | $43.34 |
| Minimal Wear | $40.55 |
Description
It has been painted with a chrome base coat and candied in transparent emerald anodized effect paint.
The 'Dual Berettas | Emerald' shines out from the crowd with its vibrant green color, symbolizing rarity and high value, much like its namesake gemstone. This skin was introduced on 27th November 2013 and instantly established itself in the market due to its eye-catching aesthetics. Its price varies from $1.50 to $6.00, reflecting its higher perceived value in the CS:GO and CS2 trading communities. The 'Emerald' skin is suited for players who want to showcase their high status and bold taste.
It was added to Counter-Strike: Global Offensive on 19 November 2019 as part of the The Canals Collection with the Operation Shattered Web update.
Dual Berettas | Emerald skin float value ranges from 0.00 to 0.08 which makes it available in the following wear conditions: Factory New, Minimal Wear.
Dual Berettas | Emerald finish style is Anodized with finish catalog equal to 453. It's unique flavor text is: 'This is what the great Sebastien Hennequet has been reduced to? A nagging school marm? What happened to you... - The Teacher and The Iconoclast Part 2'.
Dual Berettas | Emerald is a fairly liquid item. It should be easy to sell or exchange it. Traders rates this skin at 4.43/5.0.
Buy on CS.TRADE
Buy or trade for Dual Berettas | Emerald skins listed below on CS.TRADE trade bot.