Dual Berettas | Drift Wood
The 2021 Mirage Collection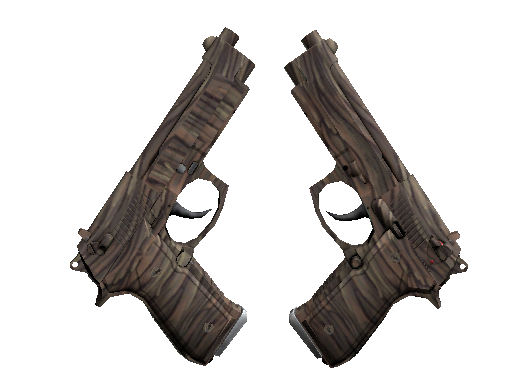 | Condition | Price |
| --- | --- |
| Factory New | $3.07 |
| Minimal Wear | $2.94 |
| Field-Tested | $2.94 |
| Well-Worn | $2.88 |
| Battle-Scarred | $2.92 |
| Souvenir Factory New | $0.09 |
| Souvenir Minimal Wear | $0.04 |
| Souvenir Field-Tested | $0.04 |
| Souvenir Well-Worn | $0.05 |
| Souvenir Battle-Scarred | $0.05 |
Description
It has been spray-painted using brown paint in a pattern resembling dried wood.
The 'Dual Berettas | Drift Wood' is an exquisite skin from the 'Shadow Web Collection'. First introduced on February 24, 2020, during the Operation Shattered Web update. Its look features a natural wood feel with a twist of artistic design. Prominent for its unique combination of earthly brown tones and smoky black accents, this skin stands out as a perfect mix of nature and battle. Trades for this item happen quite frequently on the 'Steam Community Market', with affordable prices ranging typically between 0.10 and 0.30 USD. Although the skin is judged mainly for its artistic value, it also holds a significant role for traders and players for its potential profits when utilized in trade-ups.
It was added to Counter-Strike: Global Offensive on 22 September 2021 as part of the The 2021 Mirage Collection with the Operation Riptide update.
Dual Berettas | Drift Wood skin float value ranges from 0.00 to 0.60 which makes it available in the following wear conditions: Factory New, Minimal Wear, Field-Tested, Well-Worn, Battle-Scarred.
Dual Berettas | Drift Wood finish style is Spray-Paint with finish catalog equal to 824. It's unique flavor text is: 'Knock on wood; you're gonna need all the luck you can get - Felix Riley, Commanding Officer'.
Dual Berettas | Drift Wood is a fairly liquid item. It should be easy to sell or exchange it. Traders rates this skin at 4.03/5.0.
Buy on CS.TRADE
Buy or trade for Dual Berettas | Drift Wood skins listed below on CS.TRADE trade bot.