Dual Berettas | Briar
The Cobblestone Collection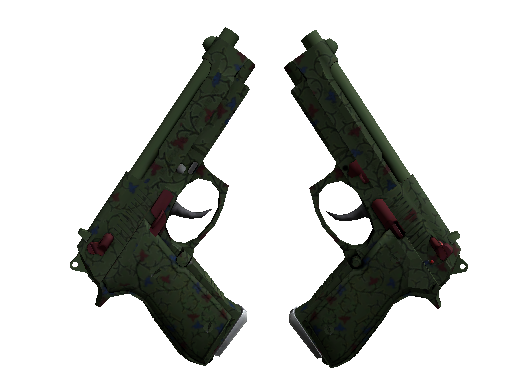 | Condition | Price |
| --- | --- |
| Factory New | $4.71 |
| Minimal Wear | $3.07 |
| Field-Tested | $2.92 |
| Souvenir Factory New | $2.07 |
| Souvenir Minimal Wear | $1.31 |
| Souvenir Field-Tested | $1.31 |
Description
It has been painted with a hydrographic of curling vines and flowers.
The 'Dual Berettas | Briar' is one of those skins that has stood the test of time in CS:GO and CS2, carrying a level of prestige with its intricate and posh-looking pattern. This skin has been a favourite among players for its refined aesthetic and historical significance, often witnessed in both professional matches and casual gaming. As per the trading statistics, its price has seen an upward trend due to its continual popularity among the gaming community.
It was added to Counter-Strike: Global Offensive on 1 July 2014 as part of the The Cobblestone Collection with the Operation Breakout update. This skin was created by Valve.
Dual Berettas | Briar skin float value ranges from 0.00 to 0.22 which makes it available in the following wear conditions: Factory New, Minimal Wear, Field-Tested.
Dual Berettas | Briar finish style is Hydrographic with finish catalog equal to 330. It's unique flavor text is: 'True Love's Kiss can't save you from its barbs'.
Dual Berettas | Briar is a fairly liquid item. It should be easy to sell or exchange it. Traders rates this skin at 4.05/5.0.
Buy on CS.TRADE
Buy or trade for Dual Berettas | Briar skins listed below on CS.TRADE trade bot.