Desert Eagle | Urban DDPAT
The Overpass Collection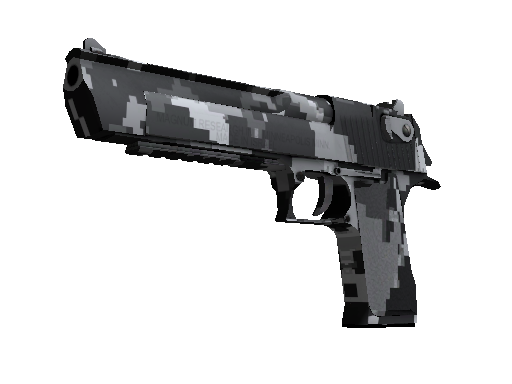 | Condition | Price |
| --- | --- |
| Factory New | $30.84 |
| Minimal Wear | $3.03 |
| Field-Tested | $2.29 |
| Well-Worn | $2.34 |
| Battle-Scarred | $2.3 |
| Souvenir Factory New | $25.94 |
| Souvenir Minimal Wear | $3.52 |
| Souvenir Field-Tested | $1.23 |
| Souvenir Well-Worn | $1.57 |
| Souvenir Battle-Scarred | $1.25 |
Description
It has been painted using a Digital Disruptive Pattern (DDPAT) hydrographic.
The 'Desert Eagle | Urban DDPAT' skin is a staple in CS:GO and CS2 games. It showcases a camouflage pattern which is highly appreciated by players who prefer a stealthy approach. This pattern not only gives an edge in gameplay but also aesthetically provides a unique appeal. Its price varies based on different factors like condition, and availability. It's often used by experienced players, making it a sought-after skin in the market.
It was added to Counter-Strike: Global Offensive on 1 July 2014 as part of the The Overpass Collection with the Operation Breakout update. This skin was created by Valve.
Desert Eagle | Urban DDPAT skin float value ranges from 0.06 to 0.80 which makes it available in the following wear conditions: Factory New, Minimal Wear, Field-Tested, Well-Worn, Battle-Scarred.
Desert Eagle | Urban DDPAT finish style is Hydrographic with finish catalog equal to 17. It's unique flavor text is: 'By the time you're close enough to notice the pixels it's already too late'.
Desert Eagle | Urban DDPAT is an item of average liquidity. It may take some time to sell or trade it. Traders rates this skin at 3.31/5.0.
Buy on CS.TRADE
Buy or trade for Desert Eagle | Urban DDPAT skins listed below on CS.TRADE trade bot.