Desert Eagle | Trigger Discipline
The Snakebite Collection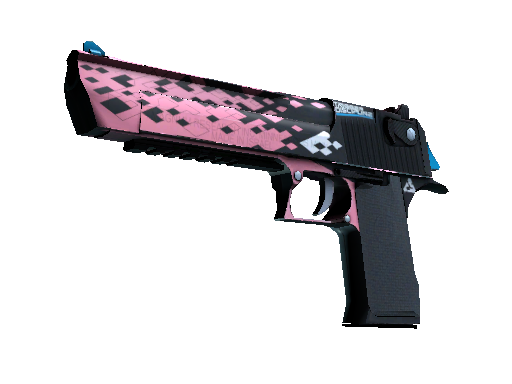 | Condition | Price |
| --- | --- |
| Factory New | $3.63 |
| Minimal Wear | $1.57 |
| Field-Tested | $0.42 |
| Well-Worn | $0.37 |
| Battle-Scarred | $0.36 |
| StatTrak Factory New | $13.67 |
| StatTrak Minimal Wear | $5.48 |
| StatTrak Field-Tested | $2.89 |
| StatTrak Well-Worn | $1.83 |
| StatTrak Battle-Scarred | $1.71 |
Description
A pink isometric pattern has been custom painted on the barrel. The hammer and front sight have been painted bright blue.
The 'Desert Eagle | Trigger Discipline' is another popular skin for the Desert Eagle pistol in CS:GO and CS2. As the name suggests, this skin embodies a disciplined and sleek design, exuding a feeling of smooth precision that matches the anticipation of waiting for the perfect shot. Known for its sharp colors and exceptional graphics, this skin was first introduced in the Spectrum Case in 2017. This item's market price varies, depending on its condition and historical trends. The unique design and the fact that it was introduced during a major case opening event contribute to its continued demand and high price on the market. Whether you are a player or a trader, the 'Desert Eagle | Trigger Discipline' is a valuable item to look out for.
It was added to Counter-Strike: Global Offensive on 3 May 2021 as part of the The Snakebite Collection with the The End of Broken Fang update.View Skin Workshop Submission
Desert Eagle | Trigger Discipline skin float value ranges from 0.00 to 0.97 which makes it available in the following wear conditions: Factory New, Minimal Wear, Field-Tested, Well-Worn, Battle-Scarred.
Desert Eagle | Trigger Discipline finish style is Custom Paint Job with finish catalog equal to 1050. It's unique flavor text is: 'Patience is its own reward'.
Desert Eagle | Trigger Discipline is a fairly liquid item. It should be easy to sell or exchange it. Traders rates this skin at 4.04/5.0.
Buy on CS.TRADE
Buy or trade for Desert Eagle | Trigger Discipline skins listed below on CS.TRADE trade bot.