Desert Eagle | Naga
The Chroma Collection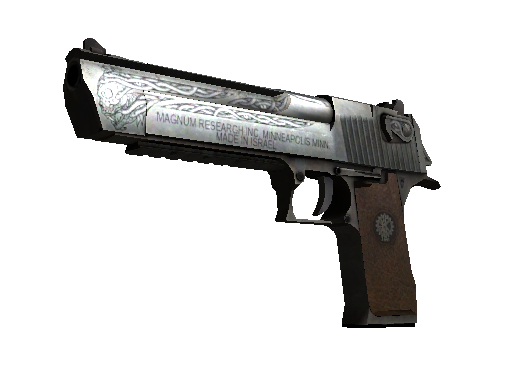 | Condition | Price |
| --- | --- |
| Factory New | $8.87 |
| Minimal Wear | $3.56 |
| Field-Tested | $1.87 |
| Well-Worn | $1.77 |
| Battle-Scarred | $1.72 |
| StatTrak Factory New | $27.93 |
| StatTrak Minimal Wear | $10.77 |
| StatTrak Field-Tested | $5.09 |
| StatTrak Well-Worn | $4.7 |
| StatTrak Battle-Scarred | $4.89 |
Description
It has been engraved with a mythological motif.
The Desert Eagle Naga Skin is a must-have for CS:GO enthusiasts. It features an intricate snake design symbolizing the mystical Naga creature from Indian mythology. Introduced to the CS:GO community in the Chroma Case series, it has become a favorite among players for its excellent condition variability and average price on the market. Its unique design brings a spiritual touch to the shooting game, enhancing player experience. You can also find this skin being used by various top players in major tournaments.
It was added to Counter-Strike: Global Offensive on 8 January 2015 as part of the The Chroma Collection with the Full Spectrum update.View Skin Workshop Submission
Desert Eagle | Naga skin float value ranges from 0.00 to 1.00 which makes it available in the following wear conditions: Factory New, Minimal Wear, Field-Tested, Well-Worn, Battle-Scarred.
Desert Eagle | Naga finish style is Patina with finish catalog equal to 397. It's unique flavor text is: 'A beast in Indian mythology as well as on the battlefield'.
Desert Eagle | Naga is a fairly liquid item. It should be easy to sell or exchange it. Traders rates this skin at 4.09/5.0.
Buy on CS.TRADE
Buy or trade for Desert Eagle | Naga skins listed below on CS.TRADE trade bot.