Desert Eagle | Mecha Industries
The Danger Zone Collection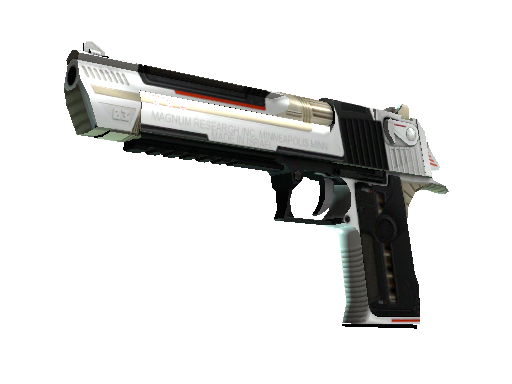 | Condition | Price |
| --- | --- |
| Factory New | $12.94 |
| Minimal Wear | $7.83 |
| Field-Tested | $5.59 |
| Well-Worn | $5.95 |
| Battle-Scarred | $4.96 |
| StatTrak Factory New | $30.74 |
| StatTrak Minimal Wear | $19.19 |
| StatTrak Field-Tested | $12.69 |
| StatTrak Well-Worn | $13.31 |
| StatTrak Battle-Scarred | $12.33 |
Description
Its white and black design feels both sterile and futuristic.
The 'Desert Eagle | Mecha Industries' is a sought-after skin introduced in the popular first-person shooter games, Counter-Strike: Global Offensive (CS:GO) and Counter-Strike 2 (CS2). The skin features an industrial, mechanical design, hence the name 'Mecha Industries'. This skin was released on the 15th of September, 2016, as part of the 'Gamma 2 Case'. The mechanical blueprint design on a white base offers a unique aesthetic to its wielder. This skin can often be seen used by popular CS:GO players in international tournaments. In terms of price, this skin's value has been fairly stable over time, making it a popular choice for traders. According to market statistics, players prefer to use this skin due to its clean design and high visibility in different game maps. As of present, the average price of 'Desert Eagle | Mecha Industries' in the market ranges between $5-$30, depending on the condition of the skin.
It was added to Counter-Strike: Global Offensive on 6 December 2018 as part of the The Danger Zone Collection with the Welcome to the Danger Zone update.View Skin Workshop Submission
Desert Eagle | Mecha Industries skin float value ranges from 0.00 to 0.60 which makes it available in the following wear conditions: Factory New, Minimal Wear, Field-Tested, Well-Worn, Battle-Scarred.
Desert Eagle | Mecha Industries finish style is Gunsmith with finish catalog equal to 805. It's unique flavor text is: 'Same technology, now available in a smaller form factor'.
Desert Eagle | Mecha Industries is one of the most liquid items. There are no problems selling and trading it. Traders rates this skin at 4.63/5.0.
Buy on CS.TRADE
Buy or trade for Desert Eagle | Mecha Industries skins listed below on CS.TRADE trade bot.