Desert Eagle | Kumicho Dragon
The Wildfire Collection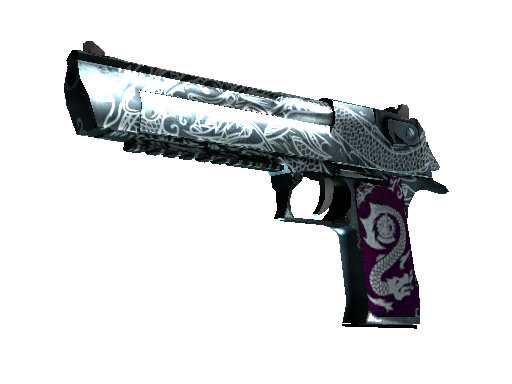 | Condition | Price |
| --- | --- |
| Factory New | $52.85 |
| Minimal Wear | $33.91 |
| Field-Tested | $20.82 |
| Well-Worn | $21.38 |
| Battle-Scarred | $17.86 |
| StatTrak Factory New | $121.41 |
| StatTrak Minimal Wear | $68.54 |
| StatTrak Field-Tested | $43.59 |
| StatTrak Well-Worn | $44.96 |
| StatTrak Battle-Scarred | $41.93 |
Description
Dragons have been laser-etched onto the slide and grip.
The 'Desert Eagle | Kumicho Dragon' is a premium skin from the CS:GO and CS2 gaming series. Released on Feb 17, 2016, it is part of the 'Operation Wildfire Case'. Known for its intricate Japanese dragon design over a shiny silver base, this skin is often associated with top-ranking players in various eSports tournaments. The design is said to symbolize power and strength, embodying the spirit of competitive gameplay. The average market price for this skin ranges from $10-$50, with the price increasing for items in better condition. This skin is a favorite among players and traders alike due to its unique design and high visibility. According to player statistics, 'Desert Eagle | Kumicho Dragon' is one of the most commonly used Desert Eagle skins in the game.
It was added to Counter-Strike: Global Offensive on 18 February 2016 as part of the The Wildfire Collection with the Operation Wildfire update.View Skin Workshop Submission
Desert Eagle | Kumicho Dragon skin float value ranges from 0.00 to 0.76 which makes it available in the following wear conditions: Factory New, Minimal Wear, Field-Tested, Well-Worn, Battle-Scarred.
Desert Eagle | Kumicho Dragon finish style is Patina with finish catalog equal to 527. It's unique flavor text is: 'I'm a big fan of your work Yukako, we should talk... -Huxley, The Competition'.
Desert Eagle | Kumicho Dragon is a fairly liquid item. It should be easy to sell or exchange it. Traders rates this skin at 4.53/5.0.
Buy on CS.TRADE
Buy or trade for Desert Eagle | Kumicho Dragon skins listed below on CS.TRADE trade bot.