Desert Eagle | Golden Koi
The Bravo Collection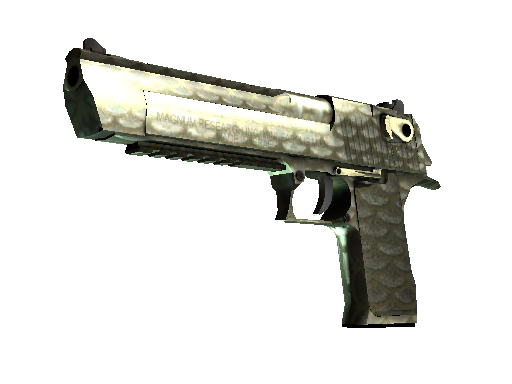 | Condition | Price |
| --- | --- |
| Factory New | $132.76 |
| Minimal Wear | $112.17 |
| StatTrak Factory New | $302.7 |
| StatTrak Minimal Wear | $202.84 |
Description
This memento from Chinatown has been covered in a metallic foil with a scale pattern.
The Desert Eagle | Golden Koi is a highly sought-after skin in CS:GO and CS2 for its aesthetic appeal and rarity. It features a stunning Koi design set on a gold-plated Desert Eagle, symbolizing good fortune and determination in Chinese culture. The skin is part of the Bravo Collection and is available in the market in various conditions, each with its own value. The Golden Koi's exquisite design and premium feel make it a must-have skin for any player looking to elevate their in-game arsenal's look. Despite its price tag, the Desert Eagle | Golden Koi holds a great value and investment potential, making it highly popular among traders and collectors. The skin showcases your gameplay in style while representing your prowess in the game.
It was added to Counter-Strike: Global Offensive on 19 September 2013 as part of the The Bravo Collection with the Operation Bravo update. This skin was created by Valve.
Desert Eagle | Golden Koi skin float value ranges from 0.00 to 0.12 which makes it available in the following wear conditions: Factory New, Minimal Wear.
Desert Eagle | Golden Koi finish style is Anodized Multicolored with finish catalog equal to 185. It's unique flavor text is: 'A loud gun in every sense of the word'.
Desert Eagle | Golden Koi is a fairly liquid item. It should be easy to sell or exchange it. Traders rates this skin at 4.50/5.0.
Buy on CS.TRADE
Buy or trade for Desert Eagle | Golden Koi skins listed below on CS.TRADE trade bot.