Desert Eagle | Bronze Deco
The Chroma 2 Collection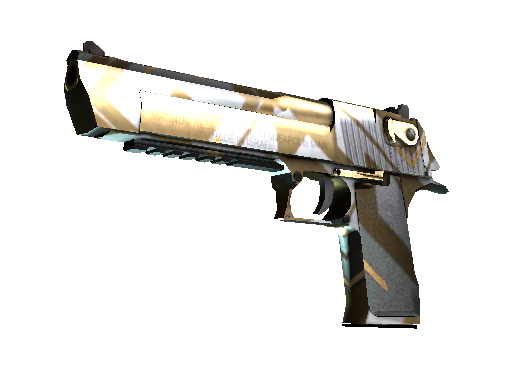 | Condition | Price |
| --- | --- |
| Factory New | $3.5 |
| Minimal Wear | $1.31 |
| Field-Tested | $0.2 |
| Well-Worn | $0.4 |
| Battle-Scarred | $0.73 |
| StatTrak Factory New | $7.51 |
| StatTrak Minimal Wear | $3.19 |
| StatTrak Field-Tested | $1.23 |
| StatTrak Well-Worn | $1.32 |
| StatTrak Battle-Scarred | $5.16 |
Description
It has been painted in an art deco pattern using metallic automotive paints.
Introduced on 17th February 2016 as part of The Wildfire Collection, the 'Desert Eagle | Bronze Deco' has become one of the most sought-after skins in CS:GO and CS2. It features an Art Deco-inspired geometric pattern in bronze, lending a vintage yet modern look to the Desert Eagle. The Bronze Deco is typically traded between $0.5-$30 and is a common choice for players looking for a stylish and affordable skin.
It was added to Counter-Strike: Global Offensive on 15 April 2015 as part of the The Chroma 2 Collection with the Chromatic Scale update.View Skin Workshop Submission
Desert Eagle | Bronze Deco skin float value ranges from 0.00 to 0.46 which makes it available in the following wear conditions: Factory New, Minimal Wear, Field-Tested, Well-Worn, Battle-Scarred.
Desert Eagle | Bronze Deco finish style is Anodized Multicolored with finish catalog equal to 425. It's unique flavor text is: 'Everyone's searching for silver and gold'.
Desert Eagle | Bronze Deco is one of the most liquid items. There are no problems selling and trading it. Traders rates this skin at 4.54/5.0.
Buy on CS.TRADE
Buy or trade for Desert Eagle | Bronze Deco skins listed below on CS.TRADE trade bot.