CZ75-Auto | Silver
The Ancient Collection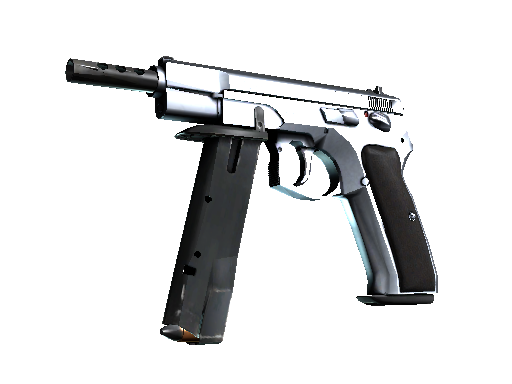 | Condition | Price |
| --- | --- |
| Factory New | $5 |
| Minimal Wear | $5.79 |
| Souvenir Factory New | $0.41 |
| Souvenir Minimal Wear | $0.67 |
Description
It has been painted with a chrome base coat and candied in transparent silver anodized effect paint.
Featuring a pure silver finish, the CZ75-Auto | Silver offers an elegant and high-end look. Its simplistic design has garnered it popularity among players who prefer a less flashy look. Despite its simplicity, the CZ75-Auto | Silver has held a steady market value due to its constant demand.
It was added to Counter-Strike: Global Offensive on 3 December 2020 as part of the The Ancient Collection with the Operation Broken Fang update.
CZ75-Auto | Silver skin float value ranges from 0.00 to 0.08 which makes it available in the following wear conditions: Factory New, Minimal Wear.
CZ75-Auto | Silver finish style is Anodized with finish catalog equal to 32. It's unique flavor text is: 'There is beauty in simplicity - Franz Kriegeld, Phoenix Tactician'.
CZ75-Auto | Silver is an item of average liquidity. It may take some time to sell or trade it. Traders rates this skin at 3.06/5.0.
Buy on CS.TRADE
Buy or trade for CZ75-Auto | Silver skins listed below on CS.TRADE trade bot.