CZ75-Auto | Red Astor
The Chroma 3 Collection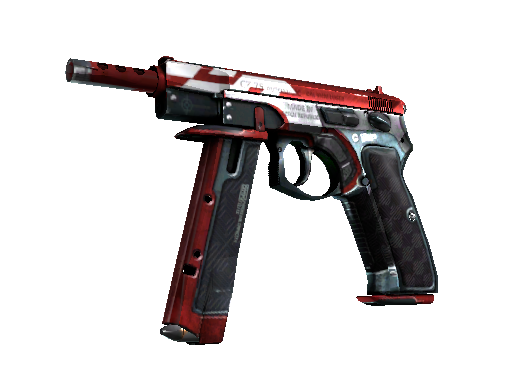 | Condition | Price |
| --- | --- |
| Factory New | $2 |
| Minimal Wear | $0.86 |
| Field-Tested | $0.49 |
| Well-Worn | $0.41 |
| Battle-Scarred | $0.36 |
| StatTrak Factory New | $5.24 |
| StatTrak Minimal Wear | $2.28 |
| StatTrak Field-Tested | $1.09 |
| StatTrak Well-Worn | $0.77 |
| StatTrak Battle-Scarred | $0.71 |
Description
It has been hand painted with red and white accents.
The 'CZ75-Auto | Red Astor' is a striking weapon skin in CS:GO and CS2, featuring a bold red and black pattern. Its vibrant look and powerful performance in-game make it a popular choice for players. The Red Astor has been used in numerous global tournaments, often fetching high prices on the market due to its distinct look and solid stats.
It was added to Counter-Strike: Global Offensive on 28 April 2016 as part of the The Chroma 3 Collection with the Trichromacy update.View Skin Workshop Submission
CZ75-Auto | Red Astor skin float value ranges from 0.00 to 1.00 which makes it available in the following wear conditions: Factory New, Minimal Wear, Field-Tested, Well-Worn, Battle-Scarred.
CZ75-Auto | Red Astor finish style is Gunsmith with finish catalog equal to 543. It's unique flavor text is: 'Booth has become synonymous with family drama; and who has time for drama when we're talking business - Huxley, The Competition'.
CZ75-Auto | Red Astor is a fairly liquid item. It should be easy to sell or exchange it. Traders rates this skin at 4.02/5.0.
Buy on CS.TRADE
Buy or trade for CZ75-Auto | Red Astor skins listed below on CS.TRADE trade bot.