CZ75-Auto | Polymer
The Glove Collection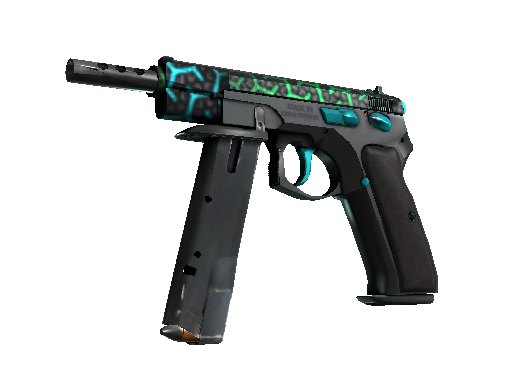 | Condition | Price |
| --- | --- |
| Factory New | $0.37 |
| Minimal Wear | $0.14 |
| Field-Tested | $0.11 |
| Well-Worn | $0.11 |
| Battle-Scarred | $0.11 |
| StatTrak Factory New | $1.56 |
| StatTrak Minimal Wear | $0.7 |
| StatTrak Field-Tested | $0.42 |
| StatTrak Well-Worn | $0.36 |
| StatTrak Battle-Scarred | $0.36 |
Description
The slide has been given a decal that resembles a polymer formula.
The sleek 'CZ75-Auto | Polymer' skin features a modern, polymer-based design that's popular among both CS:GO and CS2 players. This skin's unique aesthetic and reliable stats often lead to higher prices on the market. It's been seen in various global tournaments, proving its worth in high-stakes gameplay.
It was added to Counter-Strike: Global Offensive on 29 November 2016 as part of the The Glove Collection with the Brothers In Arms update.View Skin Workshop Submission
CZ75-Auto | Polymer skin float value ranges from 0.00 to 0.50 which makes it available in the following wear conditions: Factory New, Minimal Wear, Field-Tested, Well-Worn, Battle-Scarred.
CZ75-Auto | Polymer finish style is Anodized Multicolored with finish catalog equal to 622. It's unique flavor text is: 'You're not dealing with The Phoenix anymore, we know how to take care of our own... - The Daughter and the Paladin Part 2'.
CZ75-Auto | Polymer is a fairly liquid item. It should be easy to sell or exchange it. Traders rates this skin at 4.00/5.0.
Buy on CS.TRADE
Buy or trade for CZ75-Auto | Polymer skins listed below on CS.TRADE trade bot.