CZ75-Auto | Poison Dart
The Huntsman Collection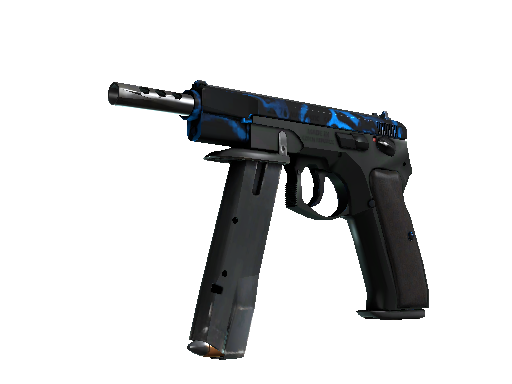 | Condition | Price |
| --- | --- |
| Factory New | $6.95 |
| Minimal Wear | $4 |
| Field-Tested | $3.63 |
| Well-Worn | $3.37 |
| Battle-Scarred | $3.66 |
| StatTrak Factory New | $18.89 |
| StatTrak Minimal Wear | $5.13 |
| StatTrak Field-Tested | $2.15 |
| StatTrak Well-Worn | $2.26 |
| StatTrak Battle-Scarred | $1.93 |
Description
It has been painted using a hydrographic inspired by a poison dart frog.
Known for its vibrant color scheme and striking design, the CZ75-Auto | Poison Dart is a highly sought-after skin. It was released in the Phoenix Weapon Case and was popularized by several high-ranking players' extensive use during tournaments. The skin's market price often sees spikes during major tournament seasons due to increased demand.
It was added to Counter-Strike: Global Offensive on 1 May 2014 as part of the The Huntsman Collection with the The Hunt Begins update.View Skin Workshop Submission
CZ75-Auto | Poison Dart skin float value ranges from 0.00 to 0.70 which makes it available in the following wear conditions: Factory New, Minimal Wear, Field-Tested, Well-Worn, Battle-Scarred.
CZ75-Auto | Poison Dart finish style is Anodized Multicolored.
CZ75-Auto | Poison Dart is a fairly liquid item. It should be easy to sell or exchange it. Traders rates this skin at 4.07/5.0.
Buy on CS.TRADE
Buy or trade for CZ75-Auto | Poison Dart skins listed below on CS.TRADE trade bot.