CZ75-Auto | Indigo
The Canals Collection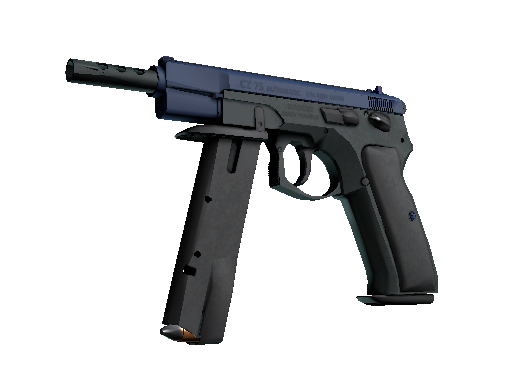 | Condition | Price |
| --- | --- |
| Factory New | $3.63 |
| Minimal Wear | $2.1 |
| Field-Tested | $1.51 |
| Well-Worn | $0.98 |
| Battle-Scarred | $1.25 |
Description
It has been painted solid colors in indigo, blue and grey.
The 'CZ75-Auto | Indigo' skin is admired for its mesmerizing blue tone reminiscent of a twilight sky. It was first introduced in the eSports 2014 Summer Collection. This skin is a favorite amongst those who value aesthetics and functionality. The color palette makes it stand out in any in-game inventory. This skin has maintained a steady price, making it affordable for both new players and collectors alike.
It was added to Counter-Strike: Global Offensive on 19 November 2019 as part of the The Canals Collection with the Operation Shattered Web update.
CZ75-Auto | Indigo skin float value ranges from 0.06 to 0.80 which makes it available in the following wear conditions: Factory New, Minimal Wear, Field-Tested, Well-Worn, Battle-Scarred.
CZ75-Auto | Indigo finish style is Solid Color with finish catalog equal to 333. It's unique flavor text is: 'Alex Kincaide, I'm sure you have many questions... please allow me to give you answers - The Phoenix and The Storyteller Part 1'.
CZ75-Auto | Indigo is an item of average liquidity. It may take some time to sell or trade it. Traders rates this skin at 3.04/5.0.
Buy on CS.TRADE
Buy or trade for CZ75-Auto | Indigo skins listed below on CS.TRADE trade bot.