CZ75-Auto | Emerald
The Chop Shop Collection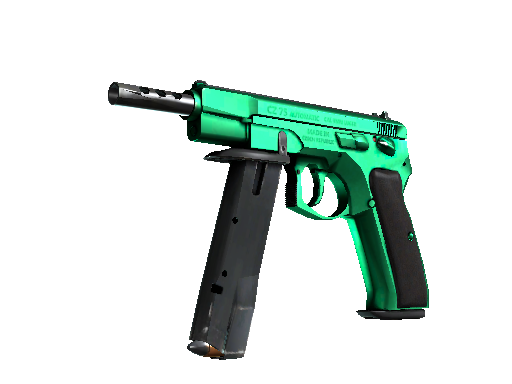 | Condition | Price |
| --- | --- |
| Factory New | $33.84 |
| Minimal Wear | $32.48 |
Description
It has been painted with a chrome base coat and candied in transparent emerald anodized effect paint.
The CZ75-Auto | Emerald skin is known for its pure green color which resembles an emerald gemstone. It was part of the Gamma 2 Case and became an instant hit among players due to its simple yet striking design. Players and collectors alike highly sought it, and it has been used in numerous tournaments by professional players.
It was added to Counter-Strike: Global Offensive on 26 May 2015 as part of the The Chop Shop Collection with the Operation Bloodhound update. This skin was created by Valve.
CZ75-Auto | Emerald skin float value ranges from 0.00 to 0.08 which makes it available in the following wear conditions: Factory New, Minimal Wear.
CZ75-Auto | Emerald finish style is Anodized with finish catalog equal to 453. It's unique flavor text is: 'This is what the great Sebastien Hennequet has been reduced to? A nagging school marm? What happened to you... - The Teacher and The Iconoclast Part 2'.
CZ75-Auto | Emerald is a fairly liquid item. It should be easy to sell or exchange it. Traders rates this skin at 4.34/5.0.
Buy on CS.TRADE
Buy or trade for CZ75-Auto | Emerald skins listed below on CS.TRADE trade bot.