CZ75-Auto | Army Sheen
The Chop Shop Collection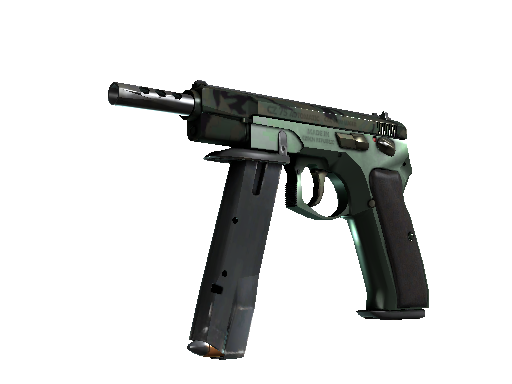 | Condition | Price |
| --- | --- |
| Factory New | $4.08 |
| Minimal Wear | $2.31 |
| Field-Tested | $2.13 |
Description
It has been covered in a metallic foil stamped with a camouflage pattern.
The 'CZ75-Auto | Army Sheen' is an iconic skin, symbolizing the spirit of competition inherent in CS:GO and CS2. The military-inspired design carries a sense of strength and strategy. Released as part of the Arms Deal 3 Collection, it's widely appreciated by players who prefer a more classic, authentic styling for their weaponry. Over time, it has remained a valuable asset in the game marketplace.
It was added to Counter-Strike: Global Offensive on 26 May 2015 as part of the The Chop Shop Collection with the Operation Bloodhound update. This skin was created by Valve.
CZ75-Auto | Army Sheen skin float value ranges from 0.00 to 0.30 which makes it available in the following wear conditions: Factory New, Minimal Wear, Field-Tested.
CZ75-Auto | Army Sheen finish style is Anodized Multicolored with finish catalog equal to 298. It's unique flavor text is: 'Remember your training'.
CZ75-Auto | Army Sheen is a fairly liquid item. It should be easy to sell or exchange it. Traders rates this skin at 4.04/5.0.
Buy on CS.TRADE
Buy or trade for CZ75-Auto | Army Sheen skins listed below on CS.TRADE trade bot.