Butterfly Knife | Stained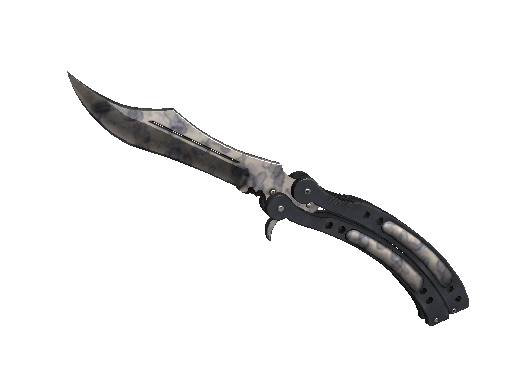 | Condition | Price |
| --- | --- |
| Factory New | $1534.67 |
| Minimal Wear | $1272.9 |
| Field-Tested | $1184.95 |
| Well-Worn | $1083.68 |
| Battle-Scarred | $1081.99 |
| StatTrak Factory New | $187.97 |
| StatTrak Minimal Wear | $1218.32 |
| StatTrak Field-Tested | $1087.56 |
| StatTrak Well-Worn | $1056.85 |
| StatTrak Battle-Scarred | $996.84 |
Description
It has been given a forced patina using lemon and mustard dripped onto the surface.
The 'Butterfly Knife | Stained' is a classic choice for traders due to its lasting appeal. Its rugged metallic design with a stained pattern adds a vintage charm, while the swift animation brings out the lethal nature of the weapon in the game. Its market value can vary based on the condition and the level of staining. Well-maintained specimens often trade at higher prices. It's a vital asset for any CS:GO or CS2 player aiming for a retro game aesthetic.
It was added to Counter-Strike: Global Offensive on 1 July 2014 with the Operation Breakout update.
Butterfly Knife | Stained skin float value ranges from 0.00 to 1.00 which makes it available in the following wear conditions: Factory New, Minimal Wear, Field-Tested, Well-Worn, Battle-Scarred.
Butterfly Knife | Stained finish style is Patina with finish catalog equal to 43. It's unique flavor text is: 'If you think it's messy now, wait until you see it under a blacklight'.
Butterfly Knife | Stained is a fairly liquid item. It should be easy to sell or exchange it. Traders rates this skin at 4.95/5.0.
Buy on CS.TRADE
Buy or trade for Butterfly Knife | Stained skins listed below on CS.TRADE trade bot.