Butterfly Knife | Boreal Forest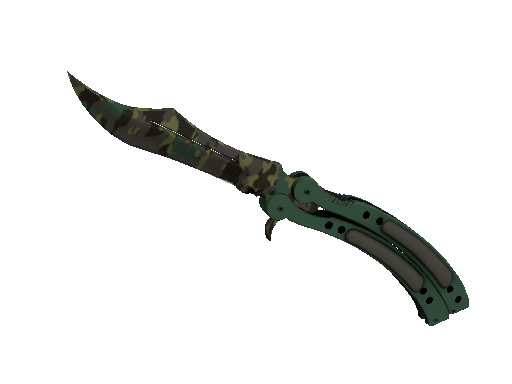 | Condition | Price |
| --- | --- |
| Factory New | $561.13 |
| Minimal Wear | $1156.38 |
| Field-Tested | $1035.95 |
| Well-Worn | $949.1 |
| Battle-Scarred | $928.92 |
| StatTrak Minimal Wear | $1136.61 |
| StatTrak Field-Tested | $912.46 |
| StatTrak Well-Worn | $862.26 |
| StatTrak Battle-Scarred | $846.8 |
Description
It has been painted using a forest camouflage hydrographic.
For players who like a more naturalistic look, the 'Butterfly Knife | Boreal Forest' is an ideal choice. Its green camouflage pattern is perfect for woodland warfare in CS:GO and CS2. The knife is known to sell for varying amounts, largely depending on its condition from 'battle-scarred' to 'factory new'. This verdant weapon brings the wild charm of a boreal forest into the virtual battleground, making it a cool addition to any player's collection.
It was added to Counter-Strike: Global Offensive on 1 July 2014 with the Operation Breakout update.
Butterfly Knife | Boreal Forest skin float value ranges from 0.06 to 0.80 which makes it available in the following wear conditions: Factory New, Minimal Wear, Field-Tested, Well-Worn, Battle-Scarred.
Butterfly Knife | Boreal Forest finish style is Hydrographic with finish catalog equal to 77. It's unique flavor text is: 'The woods can be a dangerous place... never travel alone'.
Butterfly Knife | Boreal Forest is a fairly liquid item. It should be easy to sell or exchange it. Traders rates this skin at 4.94/5.0.
Buy on CS.TRADE
Buy or trade for Butterfly Knife | Boreal Forest skins listed below on CS.TRADE trade bot.