Bayonet | Ultraviolet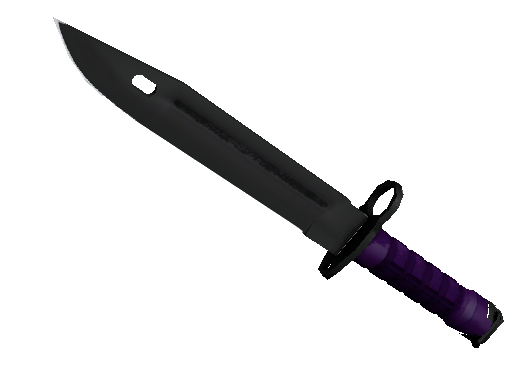 | Condition | Price |
| --- | --- |
| Factory New | $1039.16 |
| Minimal Wear | $538.86 |
| Field-Tested | $402.88 |
| Well-Worn | $375.49 |
| Battle-Scarred | $382.48 |
| StatTrak Minimal Wear | $528.02 |
| StatTrak Field-Tested | $369.3 |
| StatTrak Well-Worn | $368.97 |
| StatTrak Battle-Scarred | $366.63 |
Description
It has individual parts spray-painted solid colors in a black and purple color scheme.
The 'Bayonet | Ultraviolet' skin is one of the most coveted skins in both CS2 and CS:GO games. It's an intricately designed skin, with a sleek, ultraviolet finish that gives the knife a deadly aesthetic. Players appreciate this skin for its rarity, as it's only dropped in the rarest of cases. On the market, its price can range from moderate to high due to its demand and rarity. Its appearance in major tournaments has added to its notoriety and demand. For traders, it's a high-value item with good profit potential. A true gem for any player's inventory.
It was added to Counter-Strike: Global Offensive on 8 January 2015 with the Full Spectrum update.
Bayonet | Ultraviolet skin float value ranges from 0.06 to 0.80 which makes it available in the following wear conditions: Factory New, Minimal Wear, Field-Tested, Well-Worn, Battle-Scarred.
Bayonet | Ultraviolet finish style is Solid Color with finish catalog equal to 98. It's unique flavor text is: 'Elegant design paired with brutal intent'.
Bayonet | Ultraviolet is an item of average liquidity. It may take some time to sell or trade it. Traders rates this skin at 4.75/5.0.
Buy on CS.TRADE
Buy or trade for Bayonet | Ultraviolet skins listed below on CS.TRADE trade bot.