Bayonet | Autotronic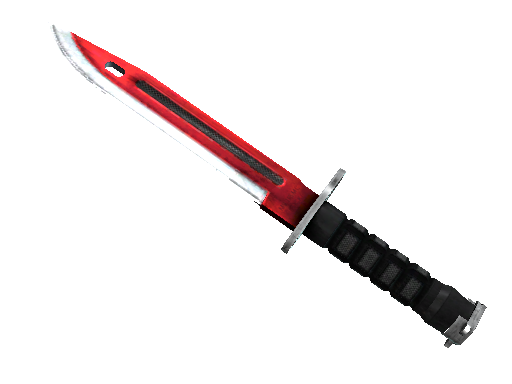 | Condition | Price |
| --- | --- |
| Factory New | $1595.66 |
| Minimal Wear | $1101.43 |
| Field-Tested | $872.04 |
| Well-Worn | $800.52 |
| Battle-Scarred | $759.11 |
| StatTrak Factory New | $1522.28 |
| StatTrak Minimal Wear | $944.53 |
| StatTrak Field-Tested | $859.42 |
| StatTrak Well-Worn | $394.42 |
| StatTrak Battle-Scarred | $723.37 |
Description
It has been anodized red and uses steel mesh to lighten the weight.
The Bayonet | Autotronic is a premium knife skin in CS:GO, featuring a unique futuristic design. Its trading price averages at about $350, reflecting its demand. Player performance during tournaments often impacts its price, making it a notable indicator of player and team success at the time of the skin's release during the Spectrum 2 Case in September 2017. The Bayonet | Autotronic continues to be sought after by CS2 and CS:GO traders for its unique design.
It was added to Counter-Strike: Global Offensive on 16 June 2016 with the Gamma Exposure update.
Bayonet | Autotronic skin float value ranges from 0.00 to 0.85 which makes it available in the following wear conditions: Factory New, Minimal Wear, Field-Tested, Well-Worn, Battle-Scarred.
Bayonet | Autotronic finish style is Gunsmith.
Bayonet | Autotronic is a fairly liquid item. It should be easy to sell or exchange it. Traders rates this skin at 4.67/5.0.
Buy on CS.TRADE
Buy or trade for Bayonet | Autotronic skins listed below on CS.TRADE trade bot.