AWP | Hyper Beast
The Falchion Collection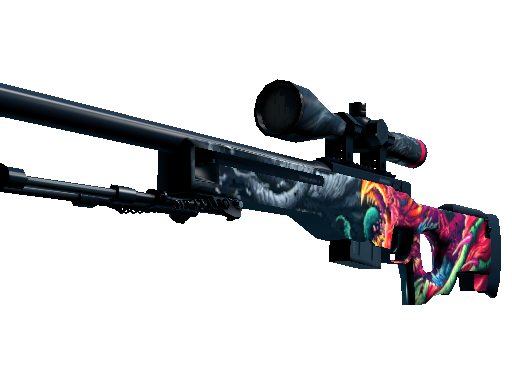 | Condition | Price |
| --- | --- |
| Factory New | $172.28 |
| Minimal Wear | $85.27 |
| Field-Tested | $48.47 |
| Well-Worn | $32.87 |
| Battle-Scarred | $27.75 |
| StatTrak Factory New | $450.03 |
| StatTrak Minimal Wear | $204.68 |
| StatTrak Field-Tested | $103.99 |
| StatTrak Well-Worn | $78.32 |
| StatTrak Battle-Scarred | $61.25 |
Description
It has been custom painted with a beastly creature in psychadelic colours.
Known for its vibrant and beastly design, the 'AWP | Hyper Beast' is an iconic skin in CS:GO and CS2. This skin, consistently seen during big tournaments, holds a high trade value. On average, it and can be found priced around $20.25 on the market. Its energetic design makes it a must-have for most collections.
It was added to Counter-Strike: Global Offensive on 26 May 2015 as part of the The Falchion Collection with the Operation Bloodhound update.View Skin Workshop Submission
AWP | Hyper Beast skin float value ranges from 0.00 to 1.00 which makes it available in the following wear conditions: Factory New, Minimal Wear, Field-Tested, Well-Worn, Battle-Scarred.
AWP | Hyper Beast finish style is Custom Paint Job with finish catalog equal to 475. It's unique flavor text is: 'You really want to impress me Booth? Make this black light sensitive - Rona Sabri, Rising Star'.
AWP | Hyper Beast is a fairly liquid item. It should be easy to sell or exchange it. Traders rates this skin at 4.95/5.0.
Buy on CS.TRADE
Buy or trade for AWP | Hyper Beast skins listed below on CS.TRADE trade bot.