AUG | Spalted Wood
The 2021 Dust 2 Collection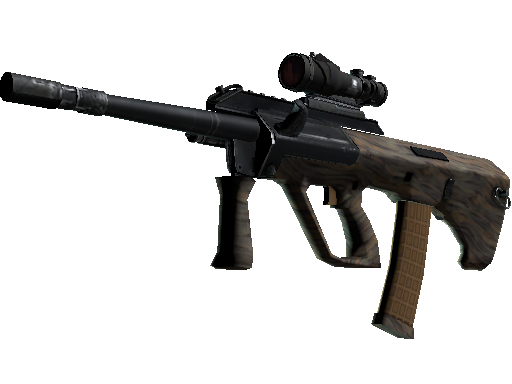 | Condition | Price |
| --- | --- |
| Factory New | $4.6 |
| Minimal Wear | $4.53 |
| Field-Tested | $4.45 |
| Well-Worn | $4.29 |
| Battle-Scarred | $3.52 |
| Souvenir Factory New | $0.11 |
| Souvenir Minimal Wear | $0.05 |
| Souvenir Field-Tested | $0.05 |
| Souvenir Well-Worn | $0.05 |
| Souvenir Battle-Scarred | $0.14 |
Description
A hydrographic pattern resembling dried wood has been applied.
The 'AUG | Spalted Wood' harks back to nature with its wood grain texture and autumnal color scheme. Despite its common classification, it has seen steady trade activity in the player market due to its distinctive look and appeal to both novice and experienced players.
It was added to Counter-Strike: Global Offensive on 22 September 2021 as part of the The 2021 Dust 2 Collection with the Operation Riptide update.
AUG | Spalted Wood skin float value ranges from 0.00 to 0.48 which makes it available in the following wear conditions: Factory New, Minimal Wear, Field-Tested, Well-Worn, Battle-Scarred.
AUG | Spalted Wood finish style is Hydrographic with finish catalog equal to 927. It's unique flavor text is: 'Knock on wood; you're gonna need all the luck you can get - Felix Riley, Commanding Officer'.
AUG | Spalted Wood is a fairly liquid item. It should be easy to sell or exchange it. Traders rates this skin at 4.05/5.0.
Buy on CS.TRADE
Buy or trade for AUG | Spalted Wood skins listed below on CS.TRADE trade bot.