AUG | Sand Storm
The 2021 Mirage Collection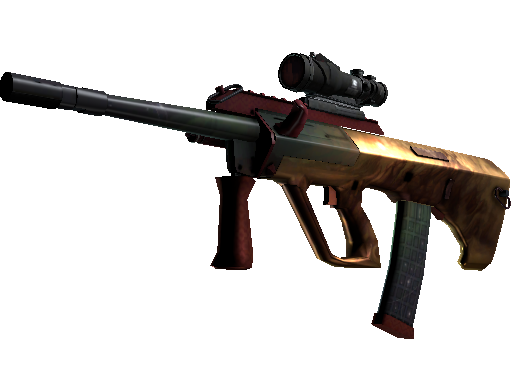 | Condition | Price |
| --- | --- |
| Factory New | $95.1 |
| Minimal Wear | $82.13 |
| Field-Tested | $72.72 |
| Well-Worn | $56.92 |
| Battle-Scarred | $41.94 |
| Souvenir Factory New | $10.47 |
| Souvenir Minimal Wear | $5.61 |
| Souvenir Field-Tested | $3.52 |
| Souvenir Well-Worn | $3.33 |
| Souvenir Battle-Scarred | $3.31 |
Description
A custom paint job depicting a passing sand storm underneath the night sky has been applied.
Known for its desert-like pattern, the 'AUG | Sand Storm' is reminiscent of gritty, intense warfare. It's a popular choice among avid CS:GO and CS2 players, offering a perfect blend of camouflage and aesthetic appeal. This skin was released as part of the Arms Deal Collection in August 2013, and has since become a staple in many players' skin collections. Given its time-tested stature and widespread popularity, it holds steady value in the online market and is often traded among gamers. The 'AUG | Sand Storm' is a tried and true option for players looking to evoke a tough and rugged image in the game.
It was added to Counter-Strike: Global Offensive on 22 September 2021 as part of the The 2021 Mirage Collection with the Operation Riptide update.
AUG | Sand Storm skin float value ranges from 0.00 to 0.50 which makes it available in the following wear conditions: Factory New, Minimal Wear, Field-Tested, Well-Worn, Battle-Scarred.
AUG | Sand Storm finish style is Gunsmith with finish catalog equal to 823. It's unique flavor text is: 'There is beauty all around us, you just have to know where to look'.
AUG | Sand Storm is a fairly liquid item. It should be easy to sell or exchange it. Traders rates this skin at 4.95/5.0.
Buy on CS.TRADE
Buy or trade for AUG | Sand Storm skins listed below on CS.TRADE trade bot.