AUG | Ricochet
The Revolver Case Collection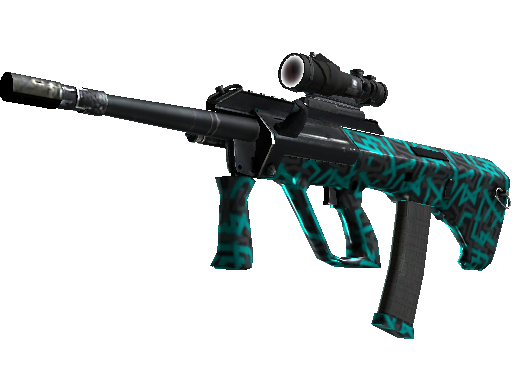 | Condition | Price |
| --- | --- |
| Factory New | $1.02 |
| Minimal Wear | $0.4 |
| Field-Tested | $0.1 |
| Well-Worn | $0.21 |
| Battle-Scarred | $0.07 |
| StatTrak Factory New | $4.21 |
| StatTrak Minimal Wear | $1.44 |
| StatTrak Field-Tested | $0.43 |
| StatTrak Well-Worn | $1.64 |
| StatTrak Battle-Scarred | $0.28 |
Description
It has been custom painted with a two tone knotwork pattern.
The 'AUG | Ricochet' skin, known for its metallic, reflective design, suggests the idea of bullets ricocheting off the player's weapon. It was part of the 'Chroma 3 Collection' and is highly respected for its symbol of resilience. The 'AUG | Ricochet' is often traded at high prices online due to its rarity and unique theme. It's a popular choice for players who want to project an image of invincibility and strength in the intense gaming environment of CS:GO and CS2.
It was added to Counter-Strike: Global Offensive on 8 December 2015 as part of the The Revolver Case Collection with the CS:GO's Winter Update update.View Skin Workshop Submission
AUG | Ricochet skin float value ranges from 0.00 to 0.80 which makes it available in the following wear conditions: Factory New, Minimal Wear, Field-Tested, Well-Worn, Battle-Scarred.
AUG | Ricochet finish style is Anodized Multicolored with finish catalog equal to 507. It's unique flavor text is: 'Kotaro doesn't need our protection - The Valkyrie and The Paramour Part 2'.
AUG | Ricochet is a fairly liquid item. It should be easy to sell or exchange it. Traders rates this skin at 4.01/5.0.
Buy on CS.TRADE
Buy or trade for AUG | Ricochet skins listed below on CS.TRADE trade bot.