AUG | Plague
The Operation Riptide Collection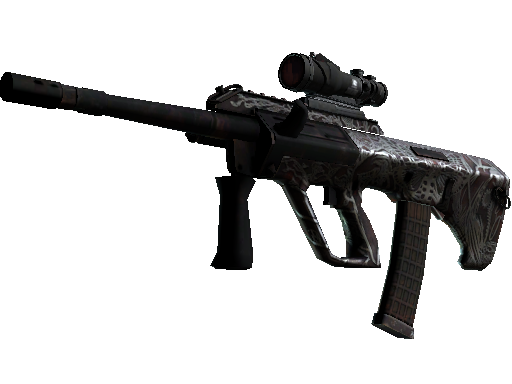 | Condition | Price |
| --- | --- |
| Factory New | $1.67 |
| Minimal Wear | $0.98 |
| Field-Tested | $0.48 |
| Well-Worn | $0.54 |
| Battle-Scarred | $0.38 |
| StatTrak Factory New | $4.11 |
| StatTrak Minimal Wear | $2.32 |
| StatTrak Field-Tested | $0.78 |
| StatTrak Well-Worn | $1.11 |
| StatTrak Battle-Scarred | $0.72 |
Description
It has been custom painted using dark fantasy and horror as inspiration.
The 'AUG | Plague' skin, known for its eerie, disease-inspired design, has been a hit among players desiring a look that strikes fear and intimidation into their enemies. First introduced in the 'CS:GO Weapon Case 3', this skin is a popular trade item due to its rarity and unique design. The 'AUG | Plague' offers players a chance to stand out on the battlefield and leaves a lasting impression on those who encounter it. It's a perfect choice for players looking to assert their menacing presence in the thrilling world of CS:GO and CS2.
It was added to Counter-Strike: Global Offensive on 22 September 2021 as part of the The Operation Riptide Collection with the Operation Riptide update.View Skin Workshop Submission
AUG | Plague skin float value ranges from 0.00 to 0.76 which makes it available in the following wear conditions: Factory New, Minimal Wear, Field-Tested, Well-Worn, Battle-Scarred.
AUG | Plague finish style is Gunsmith with finish catalog equal to 1088. It's unique flavor text is: '"Like a moth to a flame"'.
AUG | Plague is a fairly liquid item. It should be easy to sell or exchange it. Traders rates this skin at 4.02/5.0.
Buy on CS.TRADE
Buy or trade for AUG | Plague skins listed below on CS.TRADE trade bot.