AUG | Flame Jörmungandr
The Norse Collection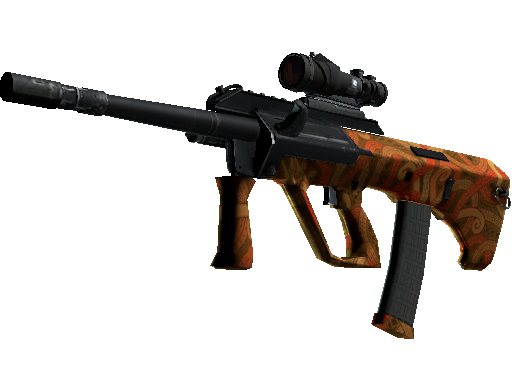 | Condition | Price |
| --- | --- |
| Factory New | $455.76 |
| Minimal Wear | $405.67 |
| Field-Tested | $328.11 |
| Well-Worn | $163.99 |
| Battle-Scarred | $399.38 |
Description
An orange pattern depicting Jörmungandr, the World Serpent, has been applied.
The 'AUG | Flame Jörmungandr' is a unique and enigmatic skin that's known for its intricate Norse-inspired design. It was first introduced in the CS20 Collection and has remained a captivating option for players interested in mythology and the supernatural. It is well-regarded in the online market, appreciated for its combination of fiery red hues and detailed artwork. The 'AUG | Flame Jörmungandr' is a symbol of might and legend in the world of Counter-Strike, becoming an appealing choice for those wanting to assert their dominance on the battlefield.
It was added to Counter-Strike: Global Offensive on 19 November 2019 as part of the The Norse Collection with the Operation Shattered Web update.
AUG | Flame Jörmungandr skin float value ranges from 0.00 to 0.50 which makes it available in the following wear conditions: Factory New, Minimal Wear, Field-Tested, Well-Worn, Battle-Scarred.
AUG | Flame Jörmungandr finish style is Anodized Multicolored with finish catalog equal to 758. It's unique flavor text is: 'Wake the gods'.
AUG | Flame Jörmungandr is a fairly liquid item. It should be easy to sell or exchange it. Traders rates this skin at 4.63/5.0.
Buy on CS.TRADE
Buy or trade for AUG | Flame Jörmungandr skins listed below on CS.TRADE trade bot.