AK-47 | Nightwish
The Dreams & Nightmares Collection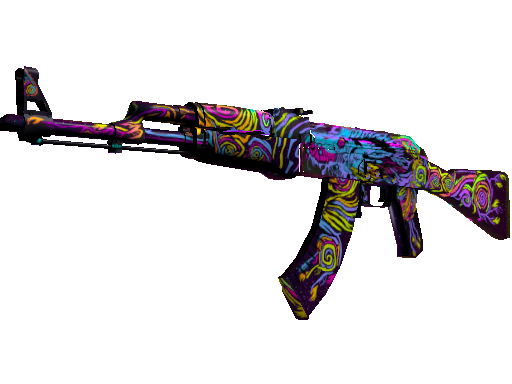 | Condition | Price |
| --- | --- |
| Factory New | $210.56 |
| Minimal Wear | $61.65 |
| Field-Tested | $24.23 |
| Well-Worn | $17.35 |
| Battle-Scarred | $10.94 |
| StatTrak Factory New | $426.21 |
| StatTrak Minimal Wear | $133.14 |
| StatTrak Field-Tested | $54.93 |
| StatTrak Well-Worn | $38.04 |
| StatTrak Battle-Scarred | $23.71 |
Description
It has been custom painted with a deer and dreamcatchers in neon colors and finished with a pearlescent effect.
The AK-47 | Nightwish is a community favorite. Its dreamy, celestial design with twinkling stars and a moonlit facade, is a popular aesthetic in the CS:GO community. Its market value is enhanced by its intricate artistry and it's a must-have for players wanting to showcase their style.
It was added to Counter-Strike: Global Offensive on 21 January 2022 as part of the The Dreams & Nightmares Collection with the Dreams & Nightmares update.View Skin Workshop Submission
AK-47 | Nightwish skin float value ranges from 0.00 to 1.00 which makes it available in the following wear conditions: Factory New, Minimal Wear, Field-Tested, Well-Worn, Battle-Scarred.
AK-47 | Nightwish finish style is Custom Paint Job with finish catalog equal to 1141. It's unique flavor text is: 'I've been saving this for a special occasion... – Booth, Arms Dealer'.
AK-47 | Nightwish is a fairly liquid item. It should be easy to sell or exchange it. Traders rates this skin at 4.66/5.0.
Buy on CS.TRADE
Buy or trade for AK-47 | Nightwish skins listed below on CS.TRADE trade bot.