AK-47 | Neon Rider
The Horizon Collection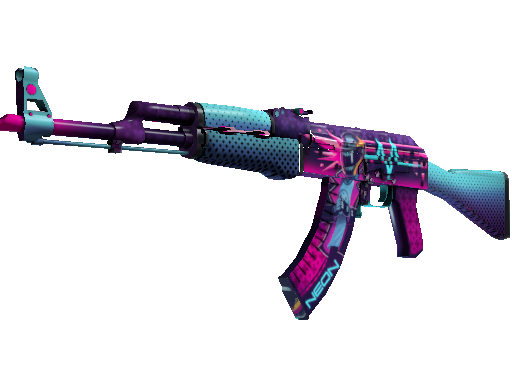 | Condition | Price |
| --- | --- |
| Factory New | $214.58 |
| Minimal Wear | $93.68 |
| Field-Tested | $51.7 |
| Well-Worn | $51.5 |
| Battle-Scarred | $32.48 |
| StatTrak Factory New | $538.35 |
| StatTrak Minimal Wear | $228.3 |
| StatTrak Field-Tested | $107.95 |
| StatTrak Well-Worn | $101.47 |
| StatTrak Battle-Scarred | $64.23 |
Description
A deadly biker can be seen in the foreground of various neon, blended patterns.
The AK-47 | Neon Rider, released in March 2019, is a fan-favorite due to its vibrant neon color palette and cyberpunk style. It's often associated with high-energy professional play, making it a popular skin during eSport events. This correlation often drives up its price during tournaments, presenting an interesting opportunity for traders.
It was added to Counter-Strike: Global Offensive on 3 August 2018 as part of the The Horizon Collection with the A New Horizon update.View Skin Workshop Submission
AK-47 | Neon Rider skin float value ranges from 0.00 to 0.80 which makes it available in the following wear conditions: Factory New, Minimal Wear, Field-Tested, Well-Worn, Battle-Scarred.
AK-47 | Neon Rider finish style is Custom Paint Job with finish catalog equal to 707. It's unique flavor text is: 'Two parts Trapper Keeper, three parts synthesizer'.
AK-47 | Neon Rider is a fairly liquid item. It should be easy to sell or exchange it. Traders rates this skin at 4.89/5.0.
Buy on CS.TRADE
Buy or trade for AK-47 | Neon Rider skins listed below on CS.TRADE trade bot.