AK-47 | Legion of Anubis
The Fracture Collection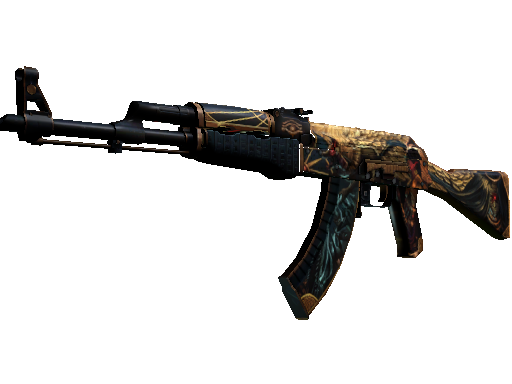 | Condition | Price |
| --- | --- |
| Factory New | $40.37 |
| Minimal Wear | $18.21 |
| Field-Tested | $12.56 |
| Well-Worn | $13.33 |
| Battle-Scarred | $10.75 |
| StatTrak Factory New | $107.71 |
| StatTrak Minimal Wear | $50.74 |
| StatTrak Field-Tested | $32.77 |
| StatTrak Well-Worn | $34.92 |
| StatTrak Battle-Scarred | $29.01 |
Description
A custom paint job featuring Egyptian gods Anubis and Ra, representing the balance between life and death, has been applied.
The AK-47 | Legion of Anubis, with its bold, gold and black ancient Egyptian design is a highly sought-after collector's skin. Legends say that it was created in honor of powerful eSports teams, immortalizing high-profile matches within its intricate design. Its strong link to eSports history drives its market value.
It was added to Counter-Strike: Global Offensive on 7 August 2020 as part of the The Fracture Collection with the On the Case update.View Skin Workshop Submission
AK-47 | Legion of Anubis skin float value ranges from 0.00 to 0.70 which makes it available in the following wear conditions: Factory New, Minimal Wear, Field-Tested, Well-Worn, Battle-Scarred.
AK-47 | Legion of Anubis finish style is Custom Paint Job with finish catalog equal to 959. It's unique flavor text is: 'May he tip the scales in your favor'.
AK-47 | Legion of Anubis is a fairly liquid item. It should be easy to sell or exchange it. Traders rates this skin at 4.40/5.0.
Buy on CS.TRADE
Buy or trade for AK-47 | Legion of Anubis skins listed below on CS.TRADE trade bot.