AK-47 | Leet Museo
The Operation Riptide Collection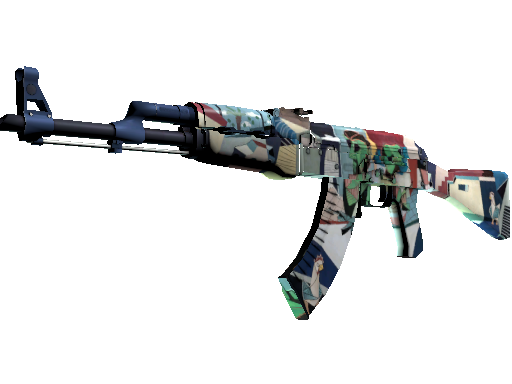 | Condition | Price |
| --- | --- |
| Factory New | $100.71 |
| Minimal Wear | $41.12 |
| Field-Tested | $26.98 |
| Well-Worn | $27.71 |
| Battle-Scarred | $24.61 |
| StatTrak Factory New | $252.62 |
| StatTrak Minimal Wear | $120.09 |
| StatTrak Field-Tested | $76.3 |
| StatTrak Well-Worn | $81.78 |
| StatTrak Battle-Scarred | $71.76 |
Description
It has been custom painted with a Cubism depiction of Elite Crew Ts sneaking up A-long on Dust II.
The AK-47 | Leet Museo is a symbol of flair and extravagance. Inspired by modern art, its unique and bold design frequently stands out in the field. Traders recognize this as a high-value skin, due to its distinctive look and the prestige that comes with it.
It was added to Counter-Strike: Global Offensive on 22 September 2021 as part of the The Operation Riptide Collection with the Operation Riptide update.View Skin Workshop Submission
AK-47 | Leet Museo skin float value ranges from 0.00 to 0.65 which makes it available in the following wear conditions: Factory New, Minimal Wear, Field-Tested, Well-Worn, Battle-Scarred.
AK-47 | Leet Museo finish style is Gunsmith with finish catalog equal to 1087. It's unique flavor text is: '"Everything you can imagine is real"'.
AK-47 | Leet Museo is a fairly liquid item. It should be easy to sell or exchange it. Traders rates this skin at 4.88/5.0.
Buy on CS.TRADE
Buy or trade for AK-47 | Leet Museo skins listed below on CS.TRADE trade bot.