AK-47 | Jungle Spray
The Aztec Collection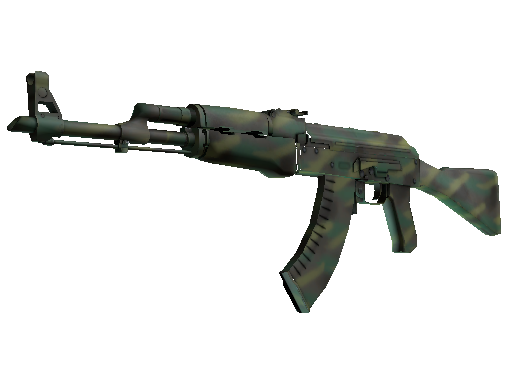 | Condition | Price |
| --- | --- |
| Factory New | $143.62 |
| Minimal Wear | $22.24 |
| Field-Tested | $10.4 |
| Well-Worn | $9.35 |
| Battle-Scarred | $9.02 |
Description
It has been spray-painted freehand with short, thick lines in contrasting colors.
The 'AK-47 | Jungle Spray', known for its green and brown camouflage pattern, was introduced in 2013 and has been a popular choice for players and collectors. With its jungle-inspired design, it offers a tactical advantage in wooded maps. Its market value is quite steady, with Minimal Wear and Factory New versions being the most desirable.
It was added to Counter-Strike: Global Offensive on 14 August 2013 as part of the The Aztec Collection with the The Arms Deal update. This skin was created by Valve.
AK-47 | Jungle Spray skin float value ranges from 0.06 to 0.80 which makes it available in the following wear conditions: Factory New, Minimal Wear, Field-Tested, Well-Worn, Battle-Scarred.
AK-47 | Jungle Spray finish style is Spray-Paint with finish catalog equal to 122. It's unique flavor text is: 'Perfect for the insurgent on the go'.
AK-47 | Jungle Spray is an item of average liquidity. It may take some time to sell or trade it. Traders rates this skin at 4.44/5.0.
Buy on CS.TRADE
Buy or trade for AK-47 | Jungle Spray skins listed below on CS.TRADE trade bot.