AK-47 | Ice Coaled
The Recoil Collection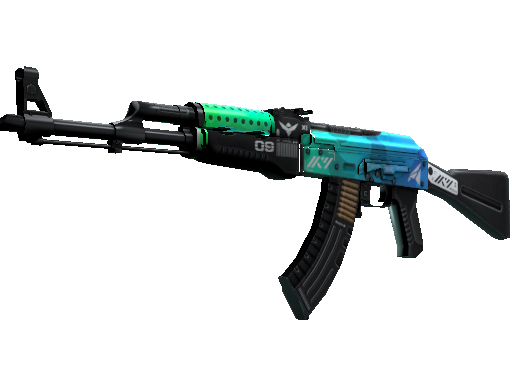 | Condition | Price |
| --- | --- |
| Factory New | $40.5 |
| Minimal Wear | $20.8 |
| Field-Tested | $12.04 |
| Well-Worn | $11.84 |
| Battle-Scarred | $8 |
| StatTrak Factory New | $99.17 |
| StatTrak Minimal Wear | $48.59 |
| StatTrak Field-Tested | $23.83 |
| StatTrak Well-Worn | $28.05 |
| StatTrak Battle-Scarred | $17.52 |
Description
It has been custom painted with a vibrant green and blue gradient.
The 'AK-47 | Ice Coaled' is a symbol of chilling precision in the game of CS:GO. This skin's frosty design, combined with its popularity among elite players in numerous tournaments, has resulted in a consistent increase in its market value, making it a desirable item for both players and traders.
It was added to Counter-Strike: Global Offensive on 1 July 2022 as part of the The Recoil Collection with the A New Cassssssse update.View Skin Workshop Submission
AK-47 | Ice Coaled skin float value ranges from 0.00 to 0.77 which makes it available in the following wear conditions: Factory New, Minimal Wear, Field-Tested, Well-Worn, Battle-Scarred.
AK-47 | Ice Coaled finish style is Custom Paint Job with finish catalog equal to 1143. It's unique flavor text is: 'Cold to the touch'.
AK-47 | Ice Coaled is one of the most liquid items. There are no problems selling and trading it. Traders rates this skin at 4.91/5.0.
Buy on CS.TRADE
Buy or trade for AK-47 | Ice Coaled skins listed below on CS.TRADE trade bot.