AK-47 | Hydroponic
The Rising Sun Collection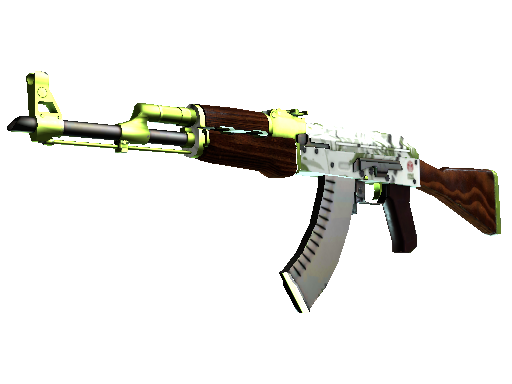 | Condition | Price |
| --- | --- |
| Factory New | $3510.56 |
| Minimal Wear | $2649.54 |
| Field-Tested | $1429.34 |
| Well-Worn | $991.09 |
| Battle-Scarred | $726.95 |
Description
It has been painted with a bamboo motif using metallic paints.
The 'AK-47 | Hydroponic', showcasing a unique green plant design, is a symbol of eco-consciousness in CS:GO and CS2. First seen in the 'Rising Sun Collection' of 2015, this rare skin attracts players for its novelty and rarity. The fluctuation in availability makes it a high-risk, high-reward item for traders.
It was added to Counter-Strike: Global Offensive on 26 May 2015 as part of the The Rising Sun Collection with the Operation Bloodhound update. This skin was created by Valve.
AK-47 | Hydroponic skin float value ranges from 0.00 to 0.80 which makes it available in the following wear conditions: Factory New, Minimal Wear, Field-Tested, Well-Worn, Battle-Scarred.
AK-47 | Hydroponic finish style is Anodized Multicolored with finish catalog equal to 456. It's unique flavor text is: 'Notice how Gunsmith Yukako used the wood of the AK-47 to accentuate her verdant theme... make no mistake'.
AK-47 | Hydroponic is a fairly liquid item. It should be easy to sell or exchange it. Traders rates this skin at 4.74/5.0.
Buy on CS.TRADE
Buy or trade for AK-47 | Hydroponic skins listed below on CS.TRADE trade bot.