AK-47 | Gold Arabesque
The 2021 Dust 2 Collection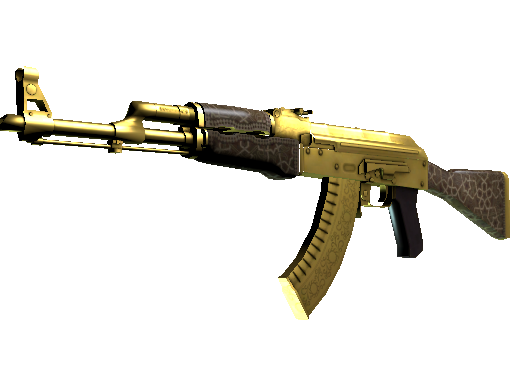 | Condition | Price |
| --- | --- |
| Factory New | $8660 |
| Minimal Wear | $6190.36 |
| Field-Tested | $5079.93 |
| Well-Worn | $3646.33 |
| Battle-Scarred | $3027.65 |
| Souvenir Factory New | $4358.27 |
| Souvenir Minimal Wear | $7899.06 |
| Souvenir Field-Tested | $5023.4 |
| Souvenir Well-Worn | $3511.86 |
| Souvenir Battle-Scarred | $3238.74 |
Description
An intricate design has been hand painted on the stock and handguard. The metal has been painted gold with filigree accents.
The 'AK-47 | Gold Arabesque' is a symbol of opulence and power in the CS:GO universe. Its intricate gold pattern exudes class and uniqueness, attracting gamers and collectors alike. It has seen exceptional growth in its market value, making it a highly sought-after item among traders.
It was added to Counter-Strike: Global Offensive on 22 September 2021 as part of the The 2021 Dust 2 Collection with the Operation Riptide update.
AK-47 | Gold Arabesque skin float value ranges from 0.00 to 0.70 which makes it available in the following wear conditions: Factory New, Minimal Wear, Field-Tested, Well-Worn, Battle-Scarred.
AK-47 | Gold Arabesque finish style is Gunsmith with finish catalog equal to 921. It's unique flavor text is: '"What other tricks does Booth have up his sleeve?"'.
AK-47 | Gold Arabesque is a fairly liquid item. It should be easy to sell or exchange it. Traders rates this skin at 4.86/5.0.
Buy on CS.TRADE
Buy or trade for AK-47 | Gold Arabesque skins listed below on CS.TRADE trade bot.