AK-47 | Fuel Injector
The Wildfire Collection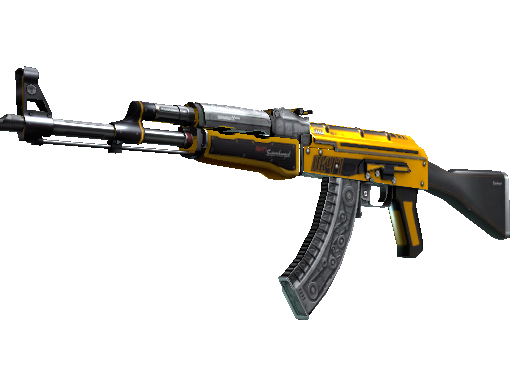 | Condition | Price |
| --- | --- |
| Factory New | $874.39 |
| Minimal Wear | $409.39 |
| Field-Tested | $263.6 |
| Well-Worn | $169.66 |
| Battle-Scarred | $132.22 |
| StatTrak Factory New | $1401.92 |
| StatTrak Minimal Wear | $704.24 |
| StatTrak Field-Tested | $481.59 |
| StatTrak Well-Worn | $318.37 |
| StatTrak Battle-Scarred | $219.99 |
Description
The body of the rifle has been painted bright yellow and the magazine has been custom painted to look like machinery.
Touted for its bold design, the 'AK-47 | Fuel Injector' skin is a blend of industrial aesthetic with shades of yellow and black. This skin's intricate detail and brightness make it a favored choice among CS:GO players. Moreover, its consistent rise in demand and stable price make it appealing to traders as well. Many elite players have been spotted using this skin, enhancing its popularity.
It was added to Counter-Strike: Global Offensive on 18 February 2016 as part of the The Wildfire Collection with the Operation Wildfire update.View Skin Workshop Submission
AK-47 | Fuel Injector skin float value ranges from 0.00 to 1.00 which makes it available in the following wear conditions: Factory New, Minimal Wear, Field-Tested, Well-Worn, Battle-Scarred.
AK-47 | Fuel Injector finish style is Gunsmith with finish catalog equal to 524. It's unique flavor text is: 'Live your life a quarter mag at a time'.
AK-47 | Fuel Injector is a fairly liquid item. It should be easy to sell or exchange it. Traders rates this skin at 4.89/5.0.
Buy on CS.TRADE
Buy or trade for AK-47 | Fuel Injector skins listed below on CS.TRADE trade bot.